by Kelley Ferro
I remember those history classes back in high school where we memorized dominant civilizations that shaped the world as we know it. Even in textbooks, the Incan Empire was particularly impressive with their communal practices, integration of other people and their (mostly) peaceful expansions across Western South America. But it's hard to really grasp the magnitude of an empire that spanned across multiple countries and was made up of millions of people, especially when all of it happened hundreds of years ago. On paper these things can feel inaccessible. But one way to understand history is by going to the source, and one visit to Peru is all it took for me to fully realize the history of the Incas and Peru's heritage.
I arrived in balmy Lima on an April evening on tour with Travcoa, and was surprised by how much larger and more vibrant the city was, compared to what I had expected. Shoppers strutted along the streets lined with contemporary boutiques, children played in parks, friends sipped Pisco at cozy cafes and surfers tackled the Pacific break along the city's expansive coastline. I wanted to live here!
This city was very much alive and much more modern than my Incan history lessons had led me to believe.
Though Lima balanced its youthful exuberance with iconic cathedrals, museums and tributes to its world famous past, it wasn't until touchdown in Cusco that I really understood Peru's backstory.
Cusco was the capital of the Inca Empire. The Temple of the Sun was where the Inca King addressed his people, adorned in all gold so his constituents could see his gleaming reflection from miles away. The temple was seized by the Spaniards, converted to a Spanish cathedral, and all traces of its Incan heritage were covered up. So much power, importance and strife were held inside these walls…walls that happened to be five feet from the doorstep of my hotel, the Palacio del Inka (which used to be an Incan Temple and later a Spanish Palace, naturally).
Here in Peru, history is not only something to be remembered, it's also something you can still participate in today. You can touch the walls, and sleep in a former temple. Suddenly, the ancient past didn't feel so ancient anymore.
Outside of the charming city of Cusco, we explored the small towns scattered across the daunting Andes. Towns inhabited by local indigenous people, such as the Quechua, many whose families have lived there for generations and are descendants of the Inca. We stopped at a women's weaving cooperative, the Center for Traditional Textiles, where I was able to talk to the Quechua women and interview their coordinator. I learned that in the past, the Quechua culture revolved around agriculture and the Quechua women did more of the handicrafts and managed home life for the family, while men labored in farming, a typical scenario of many worldwide cultures. Now, however, since the Western world is changing things in rural Peru, the Quechua are losing some of their traditional culture for more modern alternatives. The goal of this women's weaving cooperative is to have elder women teach younger women the highly skilled art of weaving, something that has been a part of this culture and this land since Inca times.
A bonus was travelers like me got to stop by, watch them work, learn about their craft and take home a scarf or sweater, with proceeds going back to the women. This seemed to be a beautiful balance of providing financial empowerment for Quechua women, educating travelers about traditional customs and preserving the ancient culture.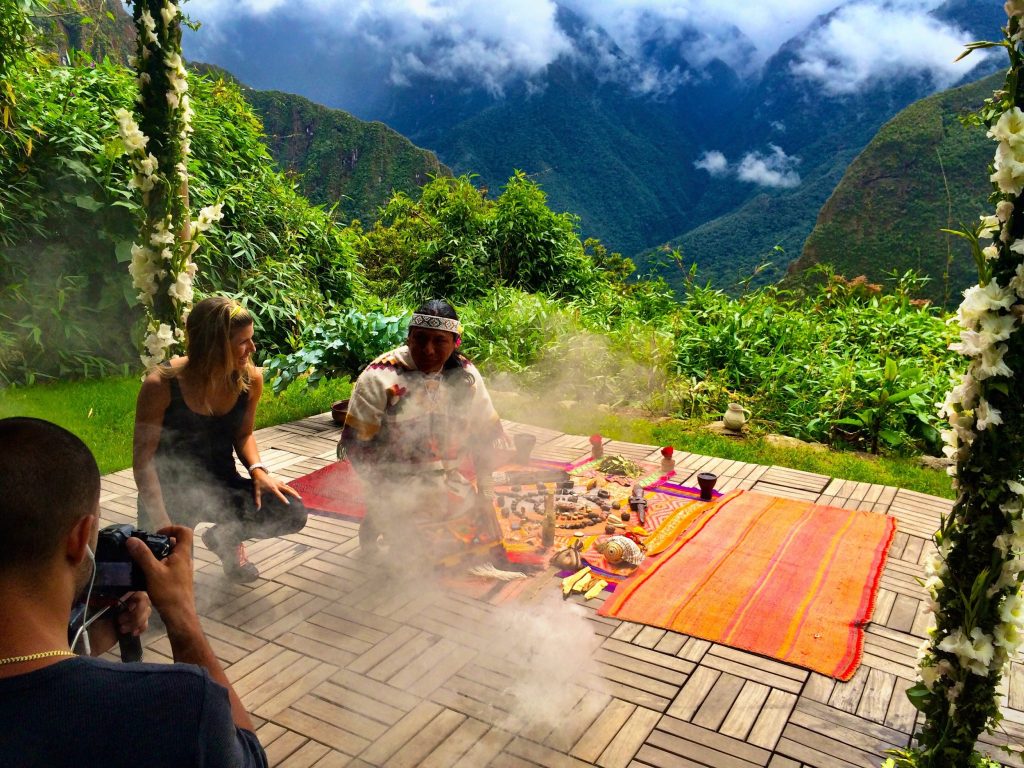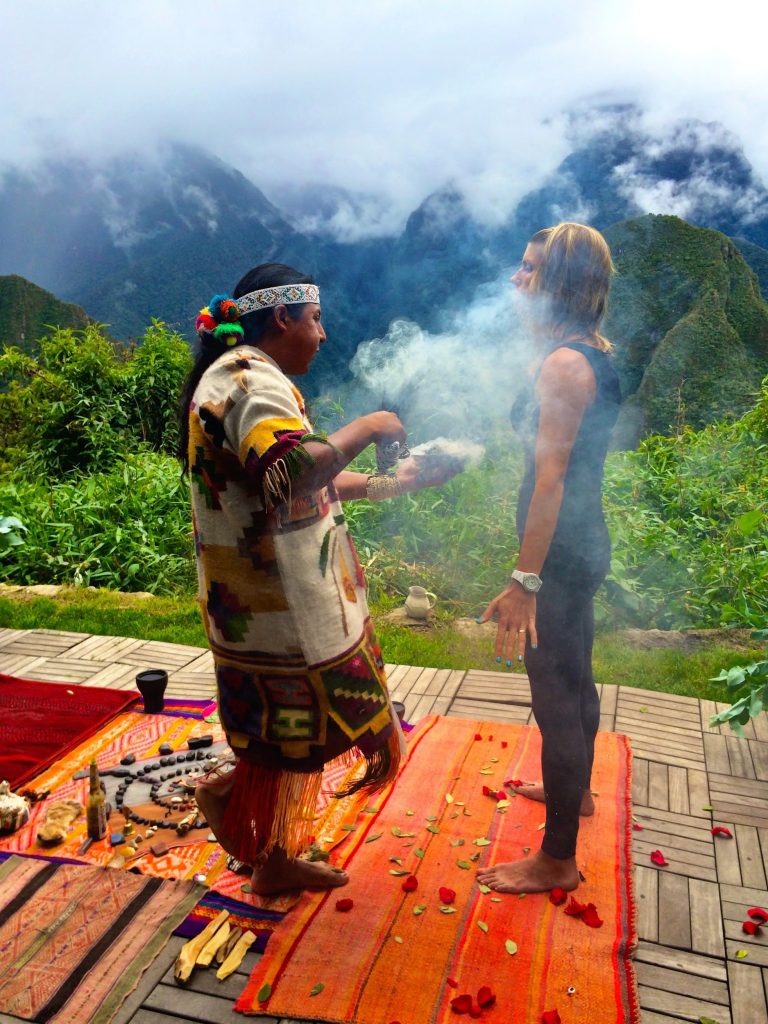 Staring at Machu Picchu, I had to close my eyes as a gust of smoke was blown over my face. As the Shaman recited something in a monotonous rhythmic tone, I felt a splash of some sort of herbal potion on my face. I was participating in a cleansing ritual, something the native Quechua Indians have performed for centuries. Willko Apaza, the resident shaman from a nearby village, came to meet with me and perform this ceremony at the Sanctuary Belmond Lodge, the only hotel located on Machu Picchu. It was quite a picturesque spot, a landing area with a background view of the Andean peaks. A blanket had been laid out with the various natural instruments that Willko used to invoke the spirits of Quechua beliefs. And I silently stood – arms and legs out in shape of a star – as Willko talked to the spirits and used ancient practices to help improve soul. Sure, this is a service that you pay for, much like a spa experience, but Willko was a real local, practicing revered Shaman and he performed the ritual with as much seriousness and dedication as his ancestors had done many times before. I was honored to be able to partake in such a significant part of the Quechua culture. Not only was I witnessing the past, I was able to be a part of it.
Of course, Machu Picchu is the highlight of Peru and a MAJOR reason why travelers visit this spectacular country. And after experiencing it at dawn, getting lost among the well-constructed village streets and breathing in the high Andean air of this unbelievably well preserved town, I could definitely see what all the fuss is about. Machu Picchu is very close to exactly what it was, when it was a thriving town 500 years ago. To see it in person, you half expect villagers to walk out of their homes, Incan farmers to be harvesting the terraced fields or maybe to witness the Incan leader addressing his village from one of the highest altars. It's not just breathtaking views and Instagram fodder, Machu Picchu is still very real. Being here reminded me that the Inca were real, living people that had real joys and struggles in their lives, like you and I.
Peru taught me that the history may have happened hundreds of years ago but it can still be present today. And understanding what Peru is today is crucial in fully grasping the destination's past. Not only seeing it, but experiencing that the past is what will carry it into the future.
Kelley Ferro is a travel expert & video journalist living in NYC. She films her show, Get Lost, around the world–hopping on a plane at least twice a month She is also the executive producer for Tripfilms.com. For more on her travels, follow Kelley's Facebook page.
---