Ten Countries for Crafts with a Cause
In survey after survey, up to 76% of consumers say that they'd rather spend their money on experiences than things. They further cite "meaning," "inspiration," "fun," and "learning" as outcomes they seek. Travelers can count on all of the above on one of Overseas Adventure Travel's small group adventures. These include hands-on activities that connect them to the local culture, such as visits to workshops where local artisans demonstrate traditional crafts. Visitors can roll up their sleeves and join in, and if they like, purchase the local wares.
"It's a win-win," says O.A.T. Vice Chairman Harriet Lewis. "Our travelers get to engage with local people and learn something new, and our hosts gain support for the industries their families rely on." Oftentimes, the activities occur during O.A.T.'s signature A Day in the Life experiences which are woven into the trips; or though visits to sites supported by Grand Circle Foundation, O.A.T's non-profit charitable organization. Here are just ten of the local crafts supported: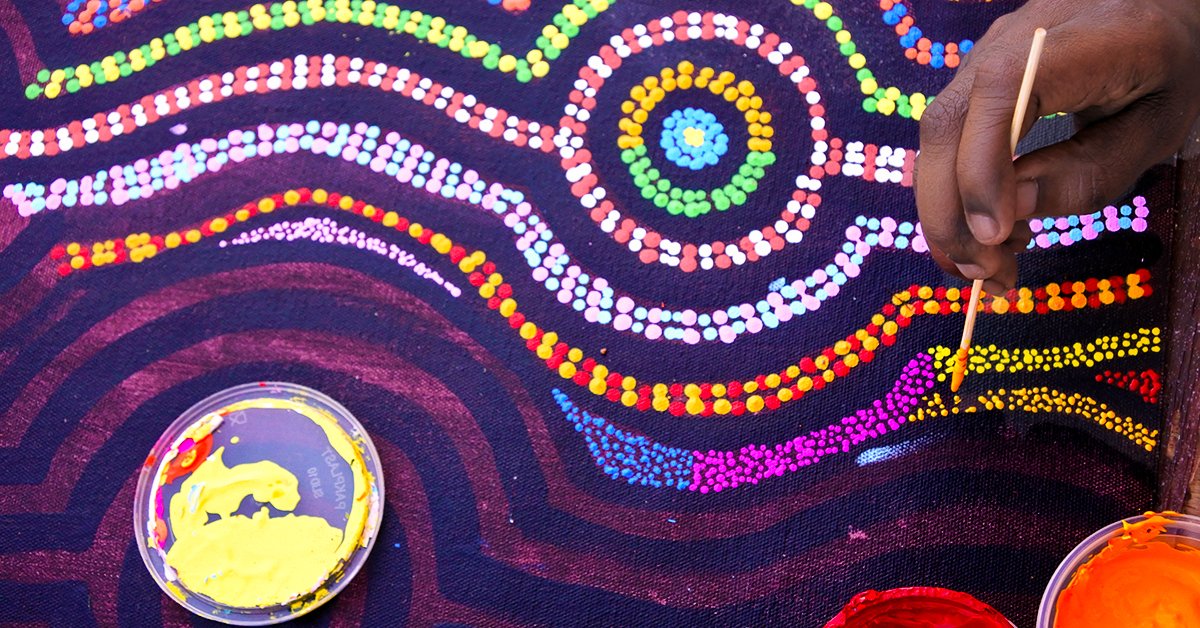 1. Australia: Aboriginal Dot Paintings
The distinctive Aboriginal dot designs are not random, but are filled with symbols that tell a visual story. Dot painting has been around for millennia, but exploded in the 1970s in Papunya near Alice Springs, where indigenous artists used it as a secret language. Other Aboriginal communities embraced the form, and today they adhere to strict rules about which techniques, symbols, and stories belong to which tribes. O.A.T. travelers are urged to only buy authentic, ethically sourced works that bear the official Indigenous Art Code seal, the "gold standard" among reputable merchants.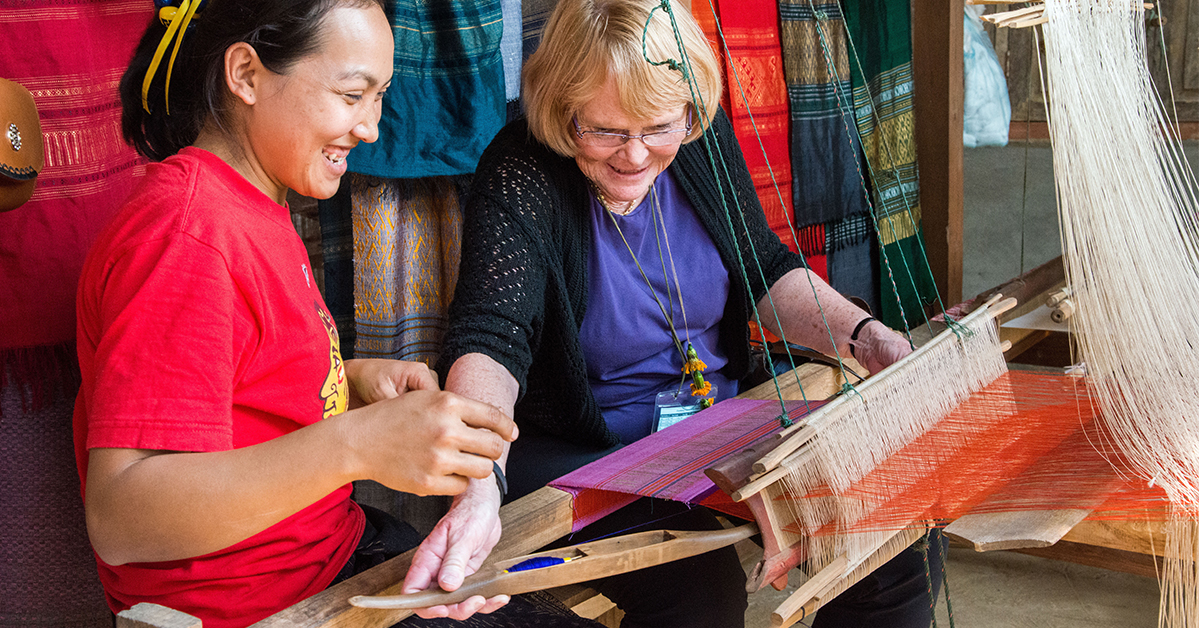 2. Laos: Traditional Weaving
Ancient Kingdoms: Thailand, Laos, Cambodia, & Vietnam
While the men of the poor Laotian village of Tin Keo farm or seek jobs in the city, the women create fabulous, colorful textiles. It started as a way to be sociable with their neighbors. Today, these industrious ladies can earn a windfall of $70-80 a month selling their fabrics, all the while improving their skills and preserving an important cultural legacy.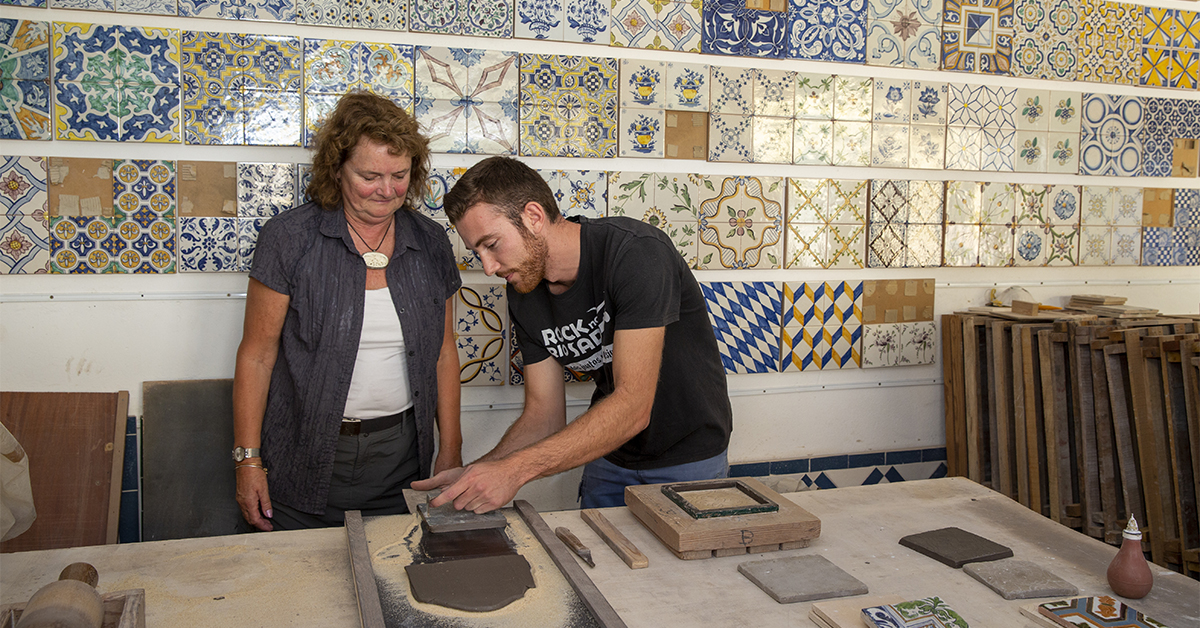 3. Portugal: Azulejo tiles
Northern Spain & Portugal: Pilgrimage into the Past
Porto's Banco de Materiais is an unusual bank: you can deposit antique tiles and withdraw some for free. Portugal's signature blue and white azulejo tiles date to Moorish times. The Banco safeguards these treasures, and sometimes the fire department will even collect tiles off at-risk buildings and deliver them to the bank. Employees then study and catalog the tiles and preserve them in wooden boxes where visitors can admire or buy them.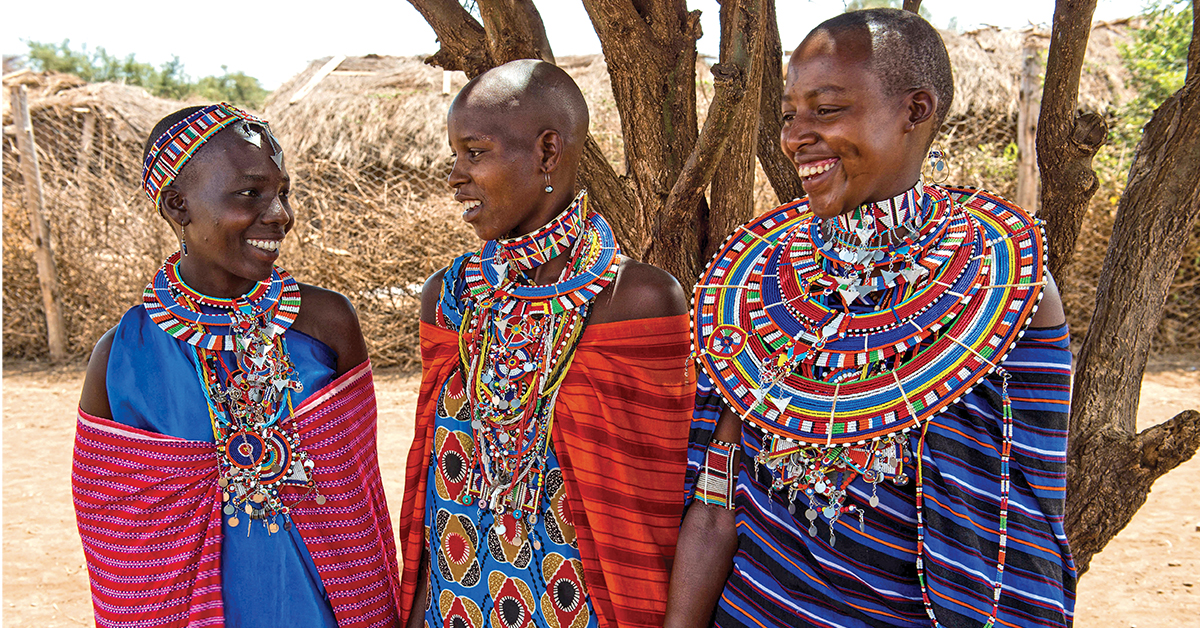 4. Kenya and Tanzania: Maasai beadwork
Safari Serengeti: Tanzania Lodge & Tented Safari
A Maasai collar can be the shape and size of a dinnerplate, decorated with bold-colored beads in intricate patterns. But to the Maasai people, these aren't just pretty baubles: they tell individual life stories, map out villages, indicate marital and social status, and represent the culture. O.A.T. travelers can purchase them directly from artists when they experience A Day in the Life of a local village such as Mto Wa Mbu.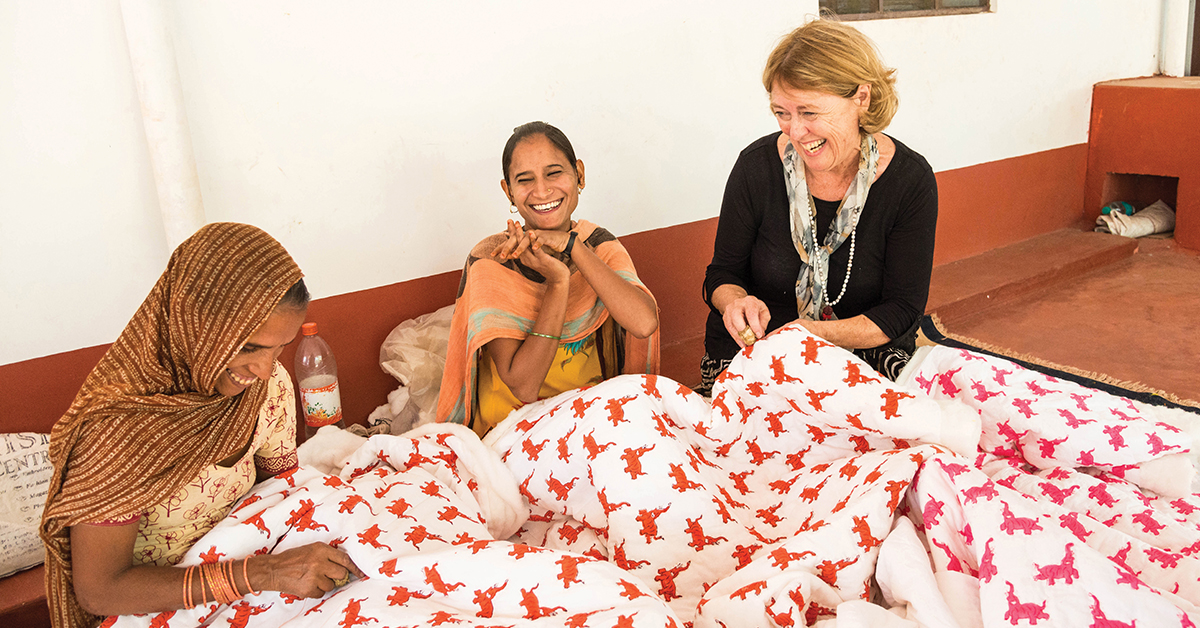 5. India: Embroidery and Textiles
India's Ranthambore National Park is famed as a sanctuary for Bengal tigers, and while some locals have resorted to poaching them, others have found a more ethical and sustainable enterprise. Through their Dhonk and Dastkar handicraft cooperatives, local Indian women teach artisanal skills so members may earn a living outside of poaching by creating embroidery, clothing, and gifts. Supported by Grand Circle Foundation, the cooperatives now celebrate the tigers whose allure attracts a steady stream of travelers—and crafts customers.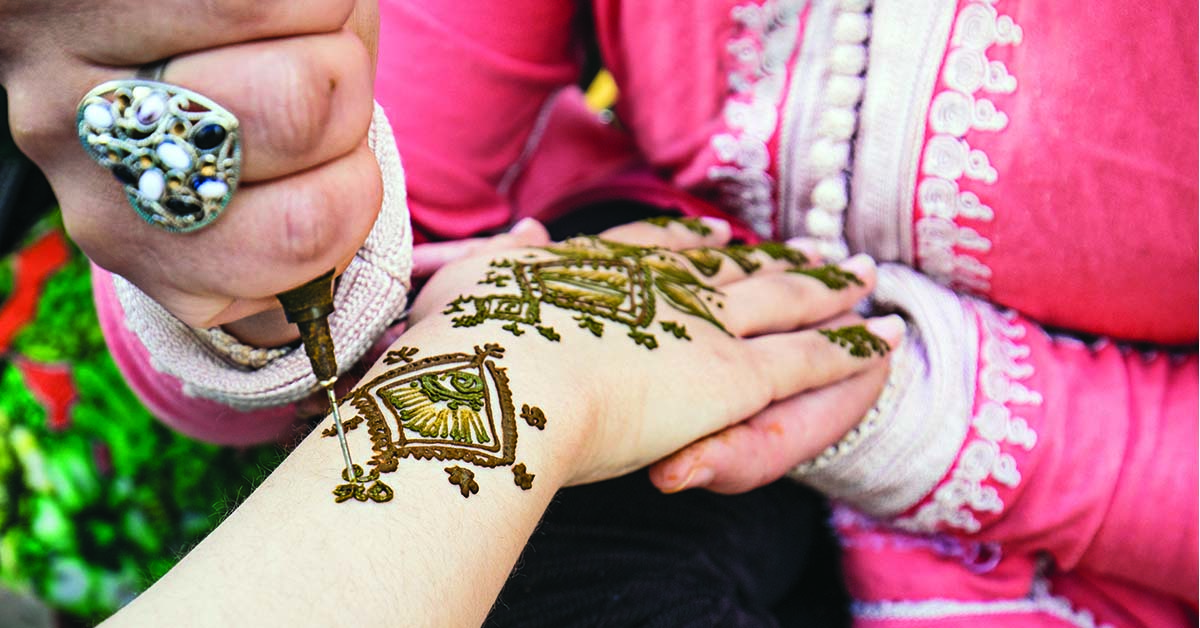 6. Morocco: Henna tattoos
Known as mendhi, the use of henna to paint the body with intricate patterns is a centuries-old Berber art believed to promote harmony and ward off evil. The (non-permanent) tattoos are also a symbol of female solidarity, as O.A.T. travelers discover when they visit the Imik Smik Women's Association for Rural Development, which provides skills training for women in the Aït Benhaddou area. As a token of friendship, members invite women visitors to participate in a traditional henna ceremony.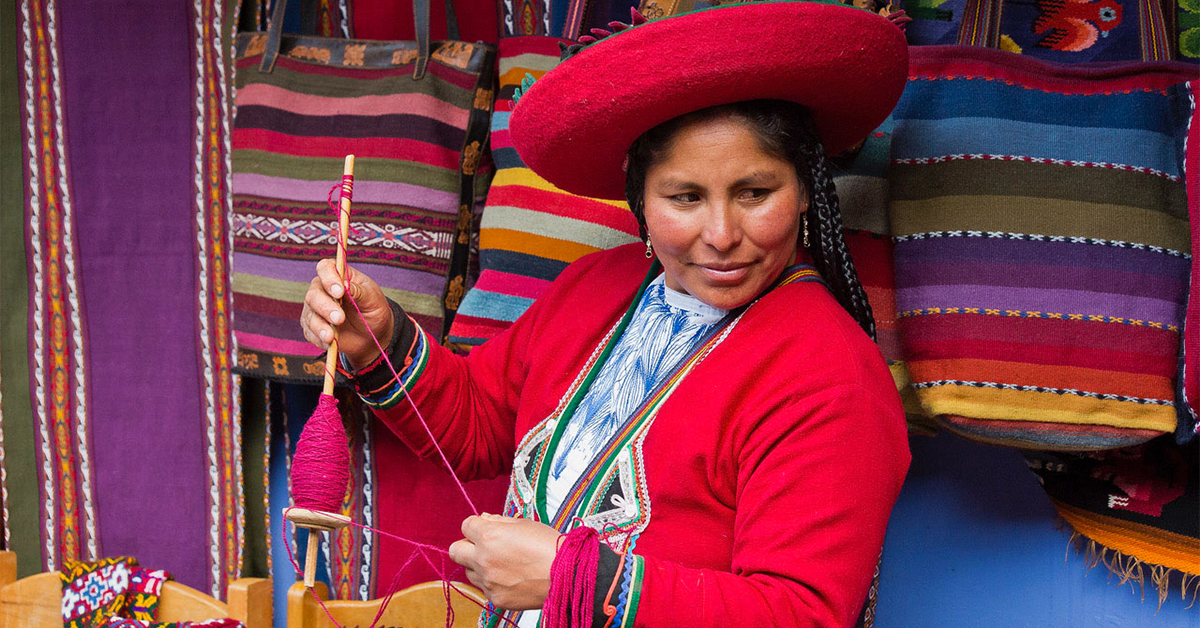 7. Peru: Chinchero weaving
High in the Sacred Valley, Chinchero was a 16th-century Inca emperor's estate, as well as a resting place on the Inca Royal Road. Today, this small village is known for its weaving industry. It is entirely managed by the local women, who use plants (and in some cases, bugs) to produce their dyes. O.A.T. travelers converse with the weavers about village life and observe the process of designing and creating these vibrant garments.
8. Japan: Hakone woodcraft
Hakone yosegi zaiku is a form of marquetry that creates intricate patterns by joining together pieces of wood. The colors—red, white, yellow, black, and green—are not created through inks, but are the natural wood shades. Today, yosegi zaiku is popular all over Japan, but there are only about 50 artisans making it, all in the Hakone/Odawara area. O.A.T. brings travelers to the Hamamatsuya workshop to meet its fourth-generation owner, and see a demonstration.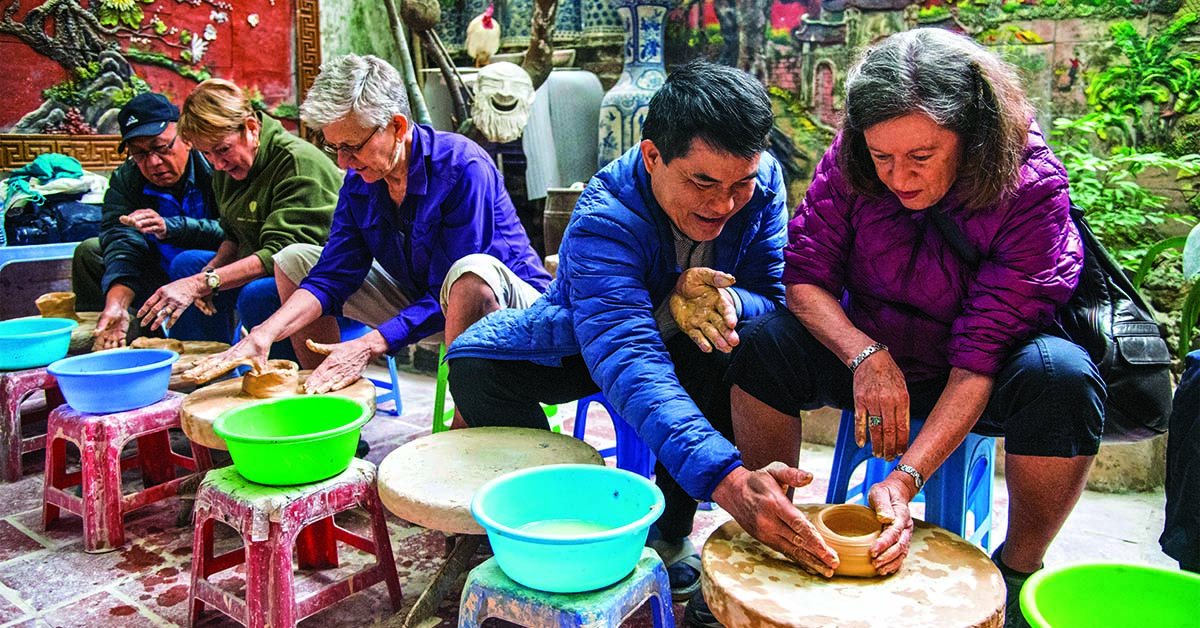 9. Vietnam: Bat Trang Pottery and Ceramics
The village of Bat Trang may lie on the Red River, but it's the area's rich white clay that has made its pottery renowned for seven centuries. O.A.T. travelers have plenty of time to browse the shops, but also visit the home and studio of an artisan family and get to make their own ceramic pieces.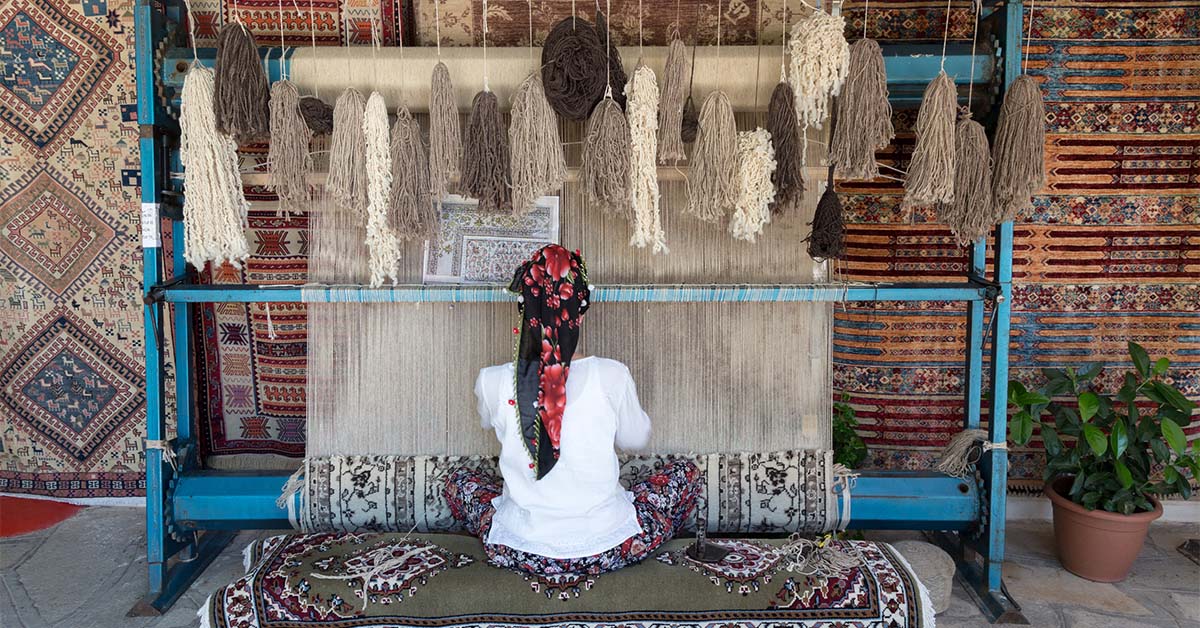 10. Turkey: carpet weaving
Turkish Coastal Voyage: Greek Islands, Istanbul & Athens
Rug weaving in Anatolia began with the arrival of Turkic tribes from Central Asia, and was a prominent art form by the 12th century. Then as now, most carpetmakers were women who worked anonymously. The process is intensively laborious, and prices are based on the intricacy of the design, quality of the materials, and the number of knots per square centimeter.
Overseas Adventure Travel is the leader in personalized small group adventures on the road less traveled. Serving all travelers over 50, the company is known for its expertise in solo travel, and has recently published 101+ Tips for Solo Women Travelers which can be ordered for free here.
---