The Plight of the Forest Person
By: Ralf Korber – SITA World Tours
Wake up is at 3am. Breakfast. At 4am we get into our two boats, ten of us in each simple, open craft to go down the lower Kinabatangan River to the Bornean village of Sukau where a bus will be waiting returning us to Sandakan airport.  The river is wide here. It is dark and low fog is hanging over the water. The stars and half-moon are beautiful, but we cannot see the riverbank. A strangely delightful experience. The remoteness of this place is palatable. And how do the boat drivers navigate safely in this foggy darkness?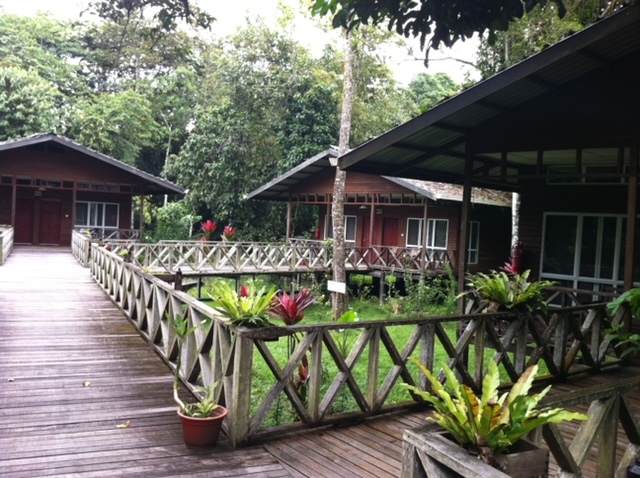 Our small group had spent three days in a rainforest lodge at the Kinabatangan, Orangutan and other wildlife trekking. We were folks in our 60s, 70s and three of us were octogenarians, all nature and animal lovers. Most of us visiting were aware that the world we had entered was under threat. Three days earlier on our two-hour ride from Sandakan to the tiny hamlet of Sukau, where the boats were waiting to take us upriver, we had transited a landscape of rolling hills with palm oil plantations. These palms lined up in orderly rows to the horizon. A man-made landscape. Impressive and at the same time ominous. The home of the Orangutan no more.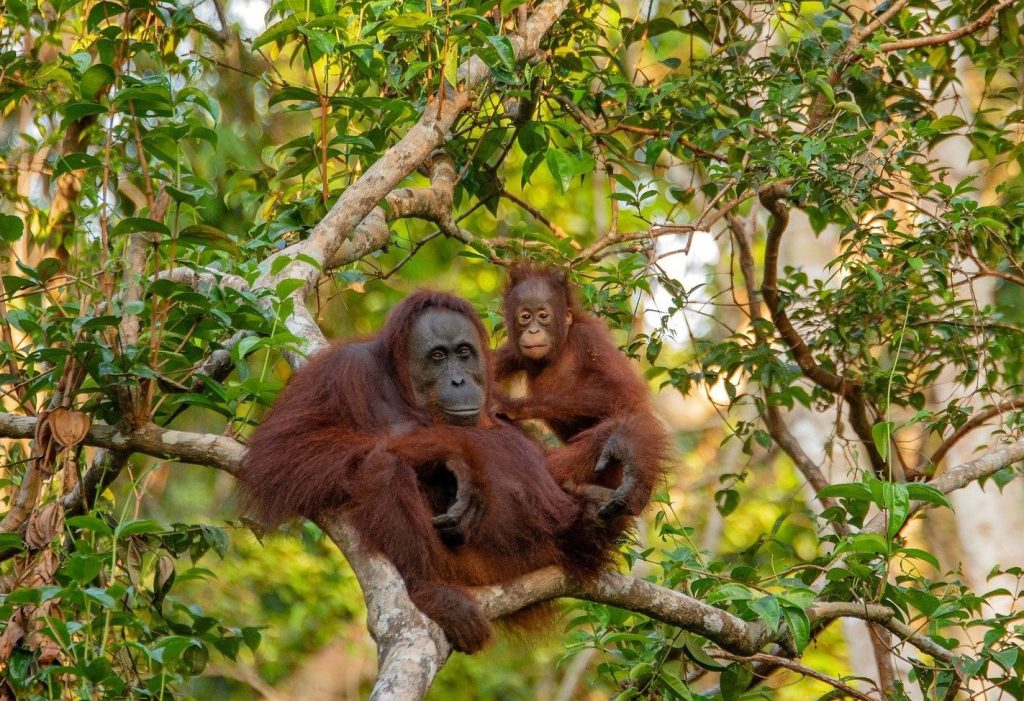 The rainforest the Orangutans call home today is a relatively narrow stretch of secondary forest along the river. Primary forest lands here had been logged decades earlier we learned. Classroom style information shared with us at the rainforest lodge was honest and thorough. Informative maps highlighted the remaining wildlife space in comparison to the vast surrounding palm oil lands truthfully.
Patches of rain forest along the river, a few square miles each and not all connected to each other. "Does this mean the Orangutan population cannot cross breed to keep the gene pool healthy"? "Do they cross over the palm oil plantation space to the next forest patch"? Those were questions we had. They were met by euphemistic answers. "The government is aware", we were told. And "Orangutans are the slowest breeding mammals and inbreeding issues would earliest become a challenge in 100 years".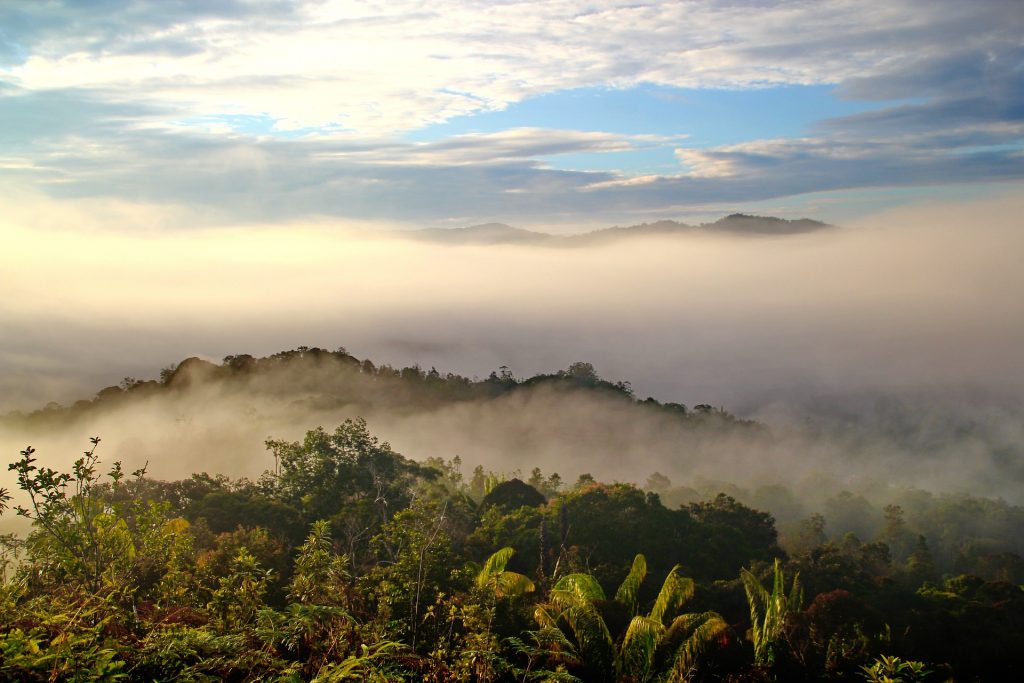 Nevertheless, trekking through these forests is a rewarding adventure. The nature guides we had contracted were phenomenal and much needed. All of us were from US metro areas and therefore had developed urban sensory expertise. Useless here. The guides saw things we would not. The trekking itself is not always easy. One must cross creeks and ditches and while it is fun to slide down a muddy embankment, try to climb up on the other side. Some of us needed help, a push or pull. The nature guides performed well in this, too. It made for good laughs as did the ever-present leech avoidance efforts. The lodge sells leech-socks at a nominal fee, a garment most were unfamiliar with, but all added quickly to their wardrobe. And one can rent rubber boots.
With the help of the guides, we found orangutans in the forest including a mother and son duo. Magic moments. For a minute the thought of danger confronting these amazing animals is forgotten.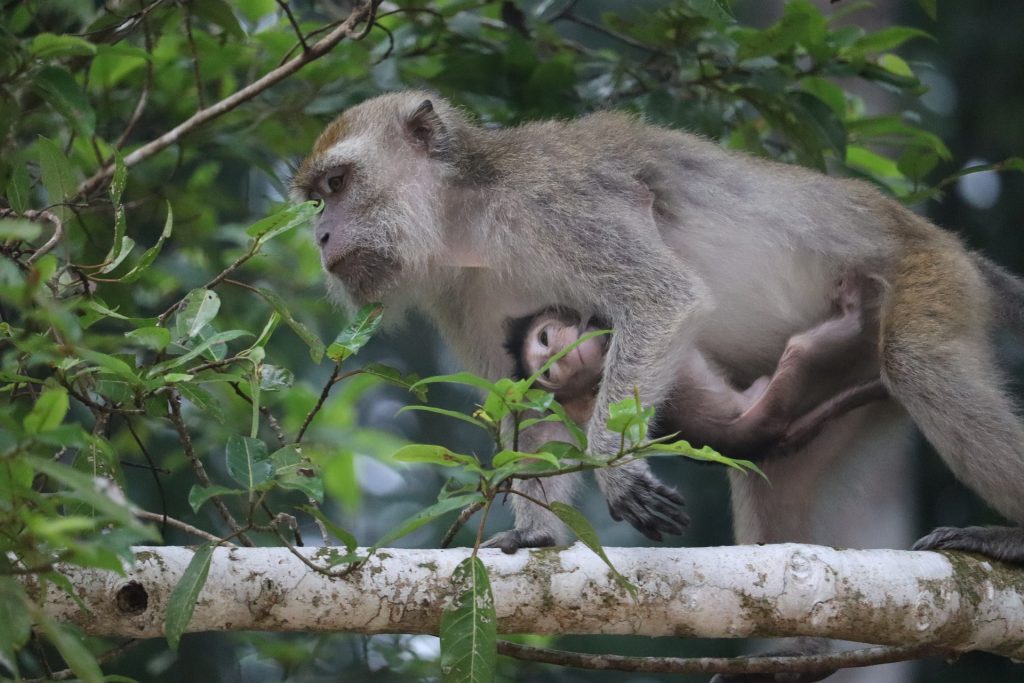 Some of us also took boats to travel to the forest. Ideal for older visitors. There are plenty of natural side channels to the Kinabatangan, some of them narrow. It is easy to meet a variety of rainforest creatures. During one such moment, we came across a 23-member troop of Long-Tailed Macaques. The sun was setting; bedtime. The adults were already resting on various branches of a large tree right at the water's edge, yet one juvenile couldn't settle down and visibly annoyed the seniors by jumping around. We lingered for a while watching the spectacle. An Asian elephant family delighted with considerable noise a few moments later.
The touristic service part of our visit was impressive. Nature guides enhance the experience. The river lodge was well done, built on an elevated wood frame construction to keep distance to the forest floor. There were two-bedroom units to each chalet. The units were air conditioned. The power is solar cell generated with traditional generators as emergency backup. Daily fresh food. Malaysian cuisine is fusion cuisine by cultural default, a mixture of Malay, Chinese, Indian. Very tasty.
We learned a lot. A question remains: how will the Orangutan, a creature with about 97 percent of our own DNA, survive man's relentless expansion into their habitat? Or will they?
About SITA World Tours
With 89 years of exemplary service in travel, SITA remains as the go-to tour operator for exotic destinations worldwide. Headquartered in Los Angeles, SITA is renowned for its highly experienced team of international specialists and is dedicated to travel excellence in every element of its programs. As a deluxe, luxury tour operator specializing in Packaged, Independent, Customized and Groups travel, SITA has become a key source for both the Consortium and Agent network nationwide. SITA's well-planned tours focus on a destination's culture, history and unique geography providing the greatest value to clients.
About Ralf Korbner – SITA World Tours
Growing up on a horse ranch in Germany with a younger brother, two cousins and lots of animals, travel was part of our annual family rhythm as long as I can remember. Summers were spent in Italy or Spain, winters in Austria for skiing and there were trips to the Baltic Sea or along the Rhine and Mosel with visits to castles and towns along those rivers. After graduating from high school on an island in the North Sea and while a university student in Germany, friends and I drove all over Europe during summer vacations. Those trips also included Turkey, Morocco and several of the countries then still behind the Iron Curtain. I became a member of the travel industry community after completing my studies at a California university. Visits to countries in Asia, Africa and travel in Australia and New Zealand have since broadened my geographic and cultural knowledge.
---