By Chelsea Todaro, Public Relations Specialist with The Travel Corporation
Safaris, sight-seeing and authentic food are all the rage when travelers think about vacationing to Africa, but what about leaving a positive impact that lasts a lifetime?
Many people may wonder what sustainability travel is, but African Travel, Inc. defines it well with trips offered alongside ME to WE and The TreadRight Foundation.
Sustainability travel simply means ensuring your vacation to make travel matter. In partnership with The TreadRight Foundation, African Travel's mission is to have a positive impact on people, wildlife, and the planet for generations to come.
How could you pass up an opportunity to vacation and make your travel matter?
African Travel, Inc. has a variety of safari vacations that include sustainable travel such as a four-day trip to Kenya, a one-day trip to Tanzania and a 10-day trip across South Africa.
Help Future Generations in Kenya on a ME to WE Trip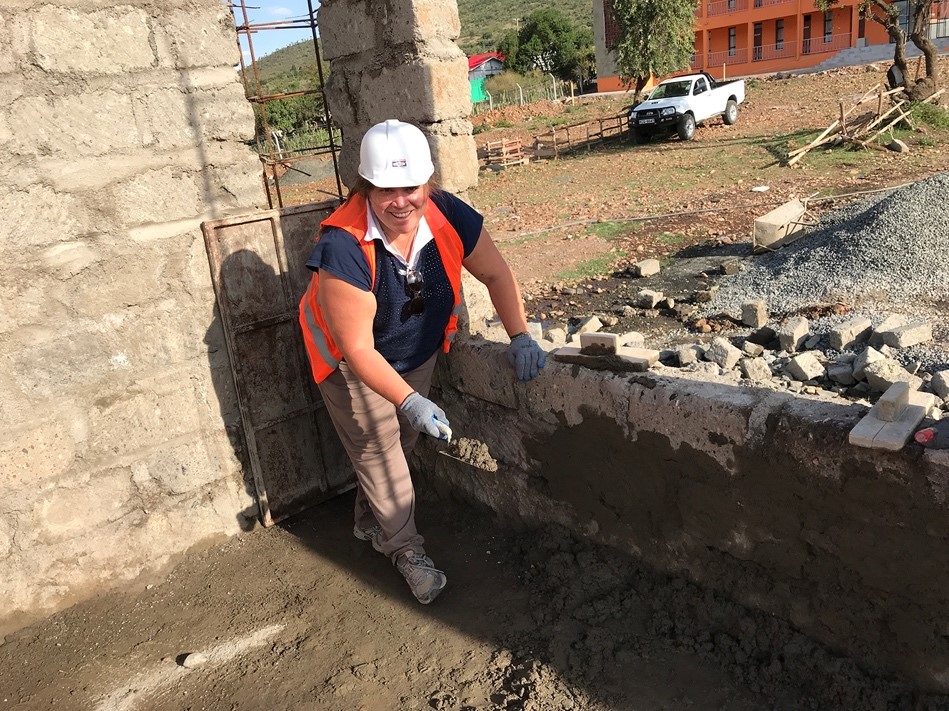 African Travel Safari Specialist, Marsha Carroll helping build a library at WE College in Kenya
(Photo Courtesy of African Travel, Inc.)
While vacationing in Kenya, you will have an unforgettable community experience in the northern Maasai Mara. You get to dive deeper into Kenya's vibrant culture and landscape, rather than just taking exotic photographs of the elephants, lions and rhinos (which you can still do!).
While in the Maasai Mara, you help rural communities to break the cycle of poverty and achieve long-term community development by investing in primary education, clean drinking water and sanitation, health care services, agriculture and alternative income projects.
What makes this unique from other experiences?
You CAN WITNESS IN PERSON the positive impact you will bring to these villages. While on a guided walking tour of a local primary school, you get to see the difference between an old school structure and a new working school built by WE Villages.
Other culturally immersive experiences of the trip include learning about daily life in a rural Kenyan village, learning the art of traditional Maasai beading from local women and visiting a local market and health center. You can then roll up your sleeves and work with Maasai and Kipsigi community members to build a new school.
But it's not all work and no play. Of course, you can still enjoy the majestic scenery around you with exquisite lunches and dinners with a view of the sunsets and mountains.
Volunteer in Tanzania for a Day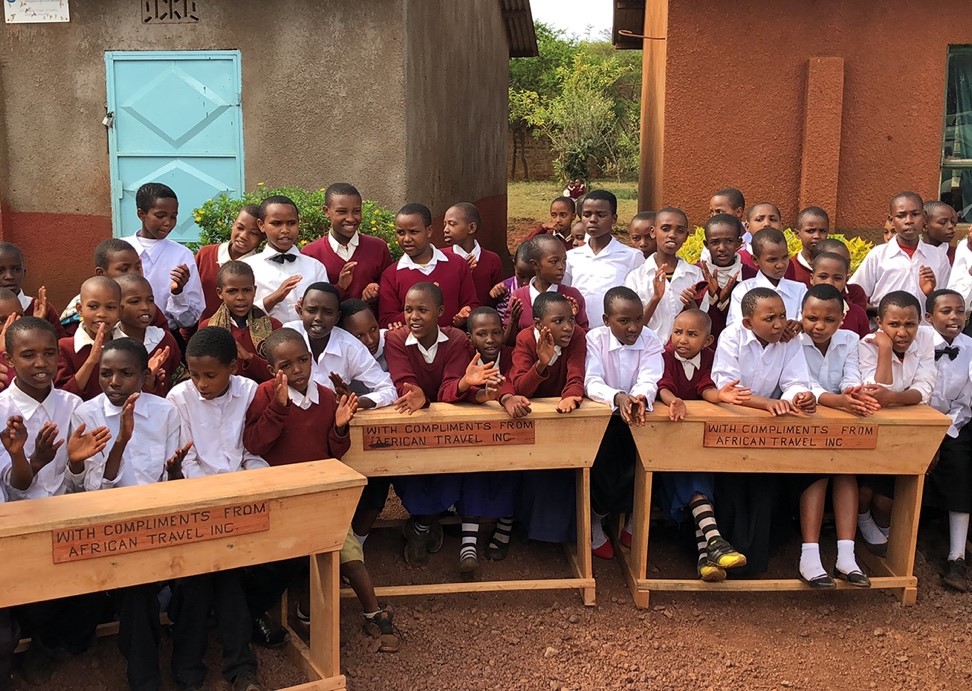 Students with desks made by African Travel, Inc.
(Photo Courtesy of African Travel, Inc.)
Guests who are staying at Gibb's Farm in Tanzania's Ngorongoro Highlands area have an opportunity to devote a morning to sawing, hammering and sanding with skilled carpenters to create school desks and other needed furniture. At schools in this area three to four children typically share ONE desk, so creating new furniture will change their daily lives at school. This is a very rewarding way to participate in village life and support children's education.
Help Save Rhinos in South Africa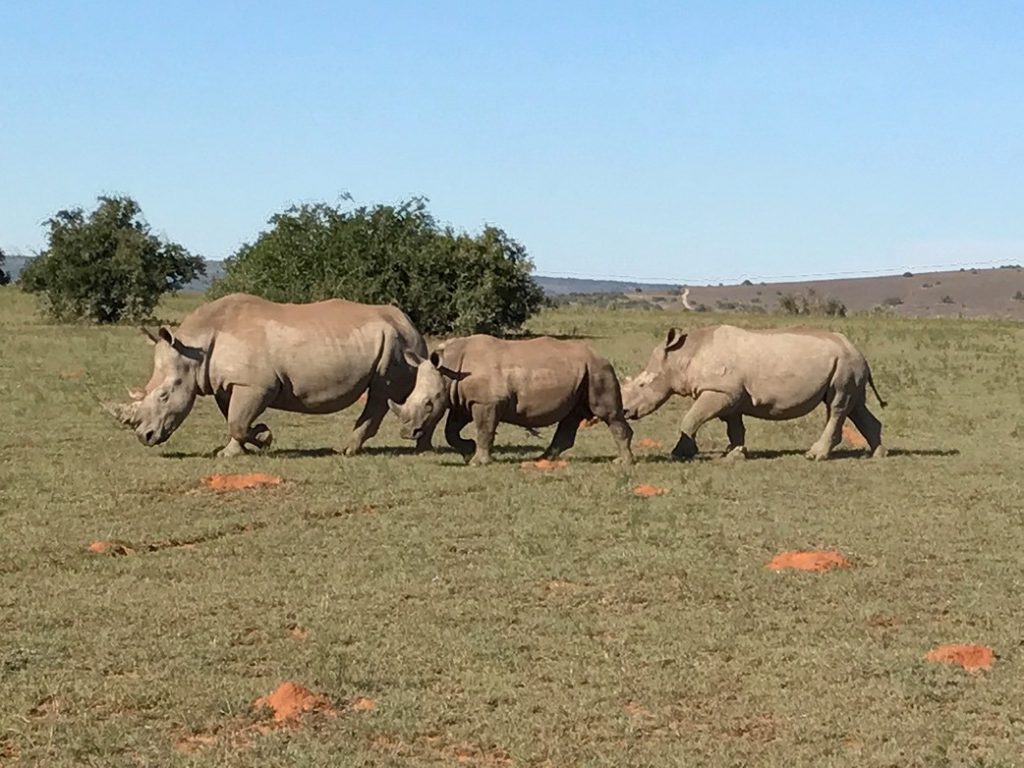 Rhinos at Shamwari Game Reserve
(Photo Courtesy of African Travel, Inc.)
On African Travel's Majestic South Africa safari vacation, you will stay at Shamwari Game Reserve and learn about the important conservation work done by people like Dr. Johan Joubert, the reserve's director of wildlife.
Just visiting Shamwari will directly help the rhino conservation efforts. When travelers book this 10-day journey, African Travel will make a donation in the couple's name, contributing to continued rhino conservation efforts and the building of a new rhino boma at the reserve, which opened in April 2019. The rhino boma is a safe haven to rehabilitate injured or orphaned rhinos until they are strong enough to be reintroduced to the wild. You'll also learn about Shamwari's innovative anti-poaching program, which includes micro-chipping rhinos and using a micro-light "Bat Hawk" aircraft for aerial surveillance
These are only a few options to help the communities in Africa but knowing you can have an enjoyable vacation while also having a positive impact can be invigorating and life-changing. So, come to Africa to relax, sight-see and #MakeTravelMatter.
Interested in learning more about African Travel, Inc.? Visit www.africantravelinc.com.
For more than 40 years, African Travel, Inc. has helped travelers discover the magic of the wild.  "We Know Africa" because we create extraordinary and unforgettable five-star experiences for each guest's individual needs.  From relaxing in spectacular luxury to touching an ancient culture, your African dream awaits you.  Our knowledgeable and dedicated experts, who have lived and traveled extensively throughout the continent, will open your eyes to a new and exciting world. Placing local offices in Africa and our headquarters in the U.S. has earned us an enviable position of influence that will leave you knowing Africa like we do.  We're committed to making travel matter by supporting the environment and the local communities we visit through our partnership with The TreadRight Foundation.  As a proud member of The Travel Corporation (TTC), a family-owned company with more than 100 years of expertise in luxury travel, we ensure exceptional service every step of the journey.  For more information and inspiration, visit www.africantravelInc.com.