Top Five Wildlife Encounters Off the Beaten Path
By: Kelsi Auld, TCS World Travel
Nothing compares to the thrill of seeing animals in the wild. From encountering loveable lemurs only found in Madagascar to witnessing the epic Great Migration across the African savanna, first-hand animal experiences create unforgettable vacations, cherished memories and a deep appreciation for nature that lasts long after returning home. Discover how you can venture off the beaten track with TCS World Travel, who has been taking guests on incredible around-the-world journeys for over 25 years, to encounter extraordinary wildlife and enjoy adventure along the way.
1. FOLLOW THE TRACKS OF TIGERS IN RANTHAMBORE NATIONAL PARK
On TCS World Travel's upcoming Wildlife and Natural Wonders expedition, explore Ranthambore, once the royal hunting grounds for maharajas and the ideal destination for observing wild tigers in their natural habitat. Ranthambore National Park works hard to protect the diverse wildlife within its borders, including some 80 Royal Bengal tigers who rule their own dedicated sanctuary. Accompanied by an expert naturalist, embark on an early-morning game drive amid the dry tropical forests, scenic lakes and open grasslands for your best chance to follow the tigers in their daily routines.
2. COME FACE-TO-FACE WITH MOUNTAIN GORILLAS IN RWANDA
Take the trek of a lifetime into the Rwandan rain forest and discover one of the most moving animal experiences: to observe the highly endangered mountain gorilla in the wild. These peaceful and powerful giants live in groups of up to 30 individuals and make their home in only three places in the world. Hike through the thick forests of Volcanoes National Park with knowledgeable local guides in search of a mountain gorilla family, and watch in awe as they munch leaves, groom each other and play.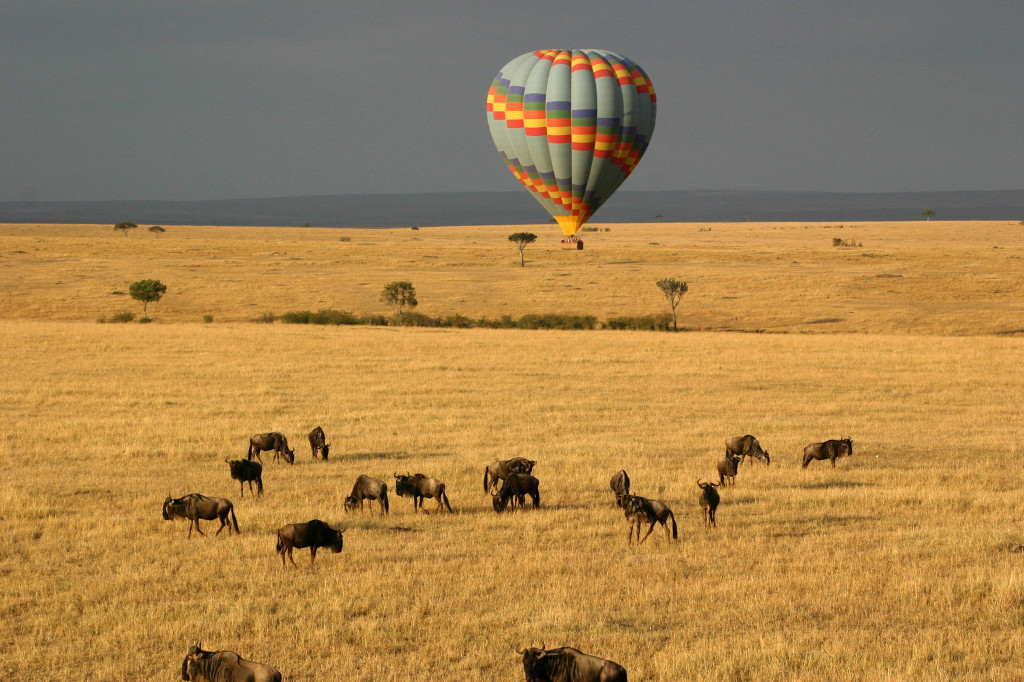 3. WITNESS THE WILDLIFE OF THE MASAI MARA FROM ABOVE
Observe one of the world's most ancient migration rituals from a hot air balloon. Every year, more than 30 species of herbivores and nearly 500 species of birds make the perilous trek across the Masai Mara plains, following the rains in search of lush feeding grounds. With a breathtaking bird's-eye view, watch as the sun rises over the golden African savanna and witness millions of migrating wildlife—including wildebeest, zebras and gazelles—pour over the seemingly endless horizon.
4. SPOT ENDEMIC LEMURS IN MADAGASCAR
Due to its geographic isolation from Africa's mainland, Madagascar is one of the most biodiverse places on Earth. Some 80 percent of the island's plants and animals exist nowhere else on the planet. And of all Madagascar's impressive inhabitants, the most famous may be the lemur—60 species of this big-eyed mammal call the island home. From ring-tailed and wild black to Hawks' sportive and Sifaka, see how many lemurs you can spot as you traverse the lush Lokobe National Park or Canyon des Singes (Canyon of Monkeys) with an expert naturalist guide.
5. ADVENTURE ACROSS LAPLAND BY DOG SLED
Explore Finland's rugged frontier on TCS World Travel's Winter Wonders expedition, offered during "Northern Lights season" when conditions are just right for spotting this astounding natural light display. Experience how Laplanders traveled before the arrival of snowmobiles by embarking on a snow safari by dog sled. Listen to the skids hissing softly as the dogs reach speed and the sled glides across the snow-covered wonderland. Set out on a nighttime ride to float underneath the breathtaking sky, or make the most of the precious daylight hours and opt for a daytime ride where you can get the chance to drive the team of huskies through snowy fells and forests with a dog sledding expert.
Want to learn more about these immersive wildlife experiences? Check out TCS World Travel's upcoming journeys and discover how you can encounter some of the world's most incredible creatures by private jet.
TCS World Travel has been enriching lives through jet expeditions and custom itineraries for over 25 years. With over 300 luxury jet expeditions to more than 200 destinations, TCS World Travel is the most experienced jet expedition company in the world. This expertise has led them to be named a top Tour Operator by Travel + Leisure magazine three years in a row.