Eight Immersive Travel Experiences in Manitoba
By: Melanie Swenarchuk
The province of Manitoba, nestled in the heart of Canada, offers visitors a chance to embark on extraordinary eco-friendly tours, discover captivating Indigenous attractions, and indulge in immersive cultural experiences. With its untouched natural landscapes and commitment to sustainability, Manitoba beckons travelers seeking genuine adventure and a deeper connection with the destination's history and environment. Read on for eight heart-stirring adventures you can experience in the middle of Canada.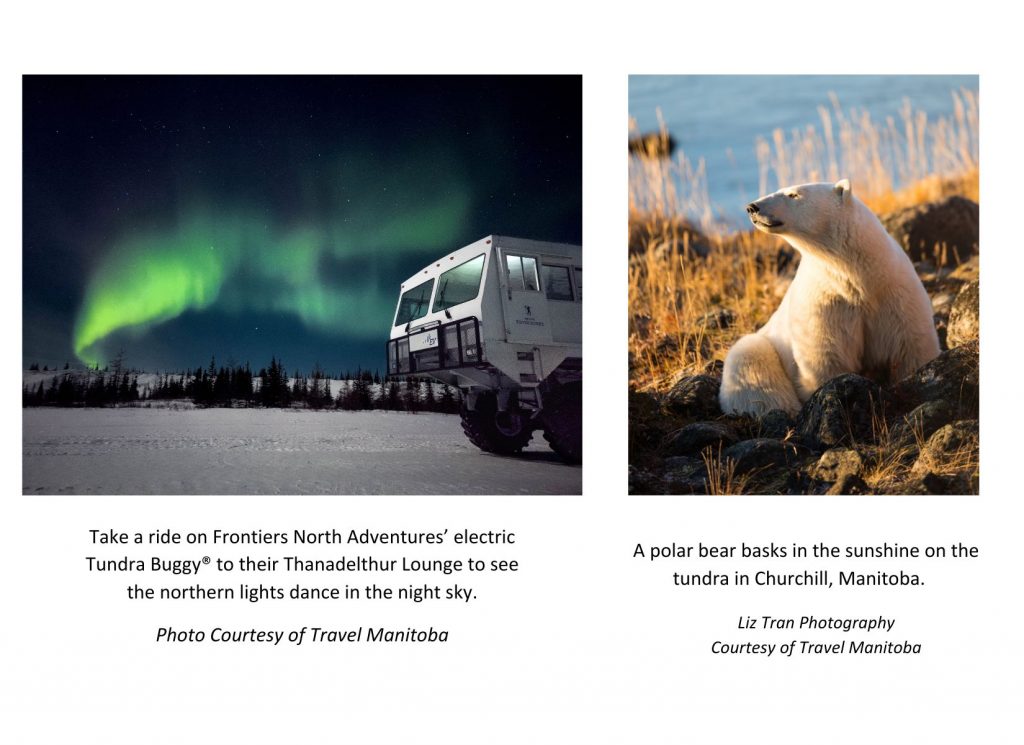 1. Experience an Arctic Safari
Churchill, known as the polar bear capital of the world, is one of the few human settlements where these majestic mammals can be viewed in the wild. In the summer, visitors have the opportunity to see thousands of beluga whales gather at the mouth of the Churchill River. In the fall, travelers can see polar bears roam the Hudson Bay coastline, spot other arctic wildlife and marvel at the beauty of the tundra. The dazzling northern lights appear at night and are another main attraction.
Tour operators like Churchill Wild and Frontiers North Adventures offer ways to see wildlife while minimizing your impact on the environment. You can get up close and personal with polar bears in an electric Tundra Buggy® with Frontiers North Adventures. Due to zero-emission vehicle technology, this new type of Tundra Buggy® means minimal disruption to the bears and their natural habitat.
Or join a walking tour with Churchill Wild for your chance to see polar bears and wolves in the wild. Your ground-level safari will be led by a professionally trained guide to help keep you and the polar bears safe while protecting their natural habitat.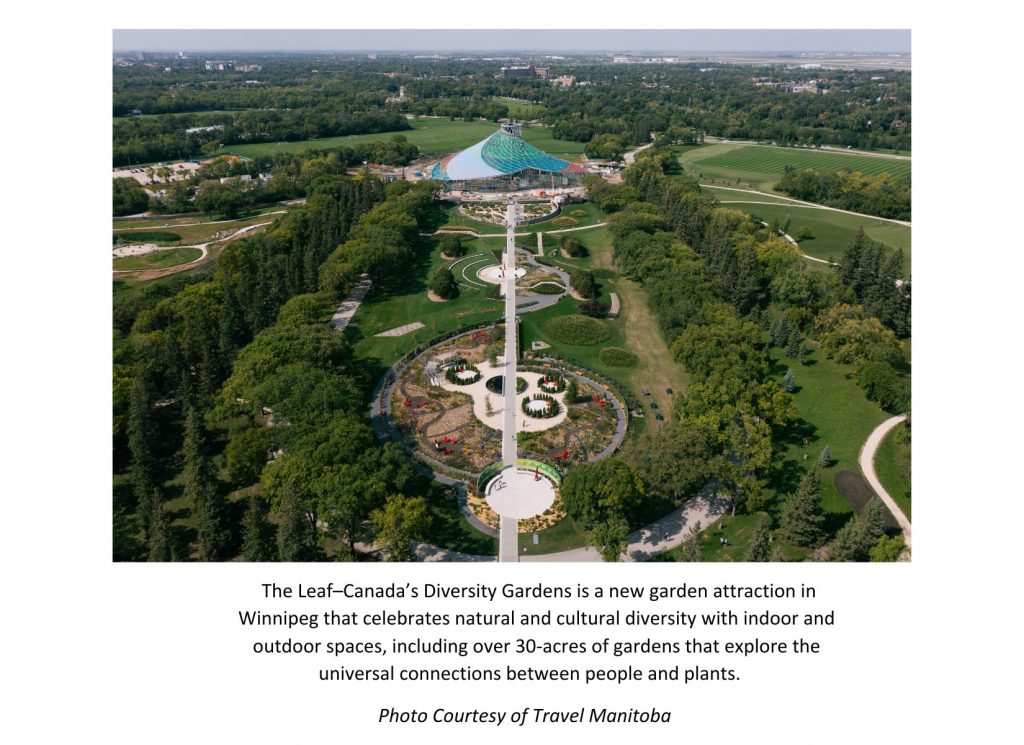 2. Celebrate Indigenous cultures at The Leaf – Canada's Diversity Gardens
The Leaf – Canada's Diversity Gardens is one of Manitoba's newest attractions with indoor and outdoor spaces that explore connections between people and plants. The Gardens at The Leaf is a 30-acre revitalized outdoor space divided into six uniquely themed gardens touching on connections with food, our senses and Indigenous cultures and languages.
Each detail of the Indigenous Peoples Garden was inspired by Elders and community members who came together to create this unique outdoor space. From the wood carvings to the fire circle, each piece was thoughtfully chosen to create a place to learn, connect and celebrate Indigenous stories, cultures and languages. Access to the outdoor gardens is free and events are held in the Performance Garden throughout the summer.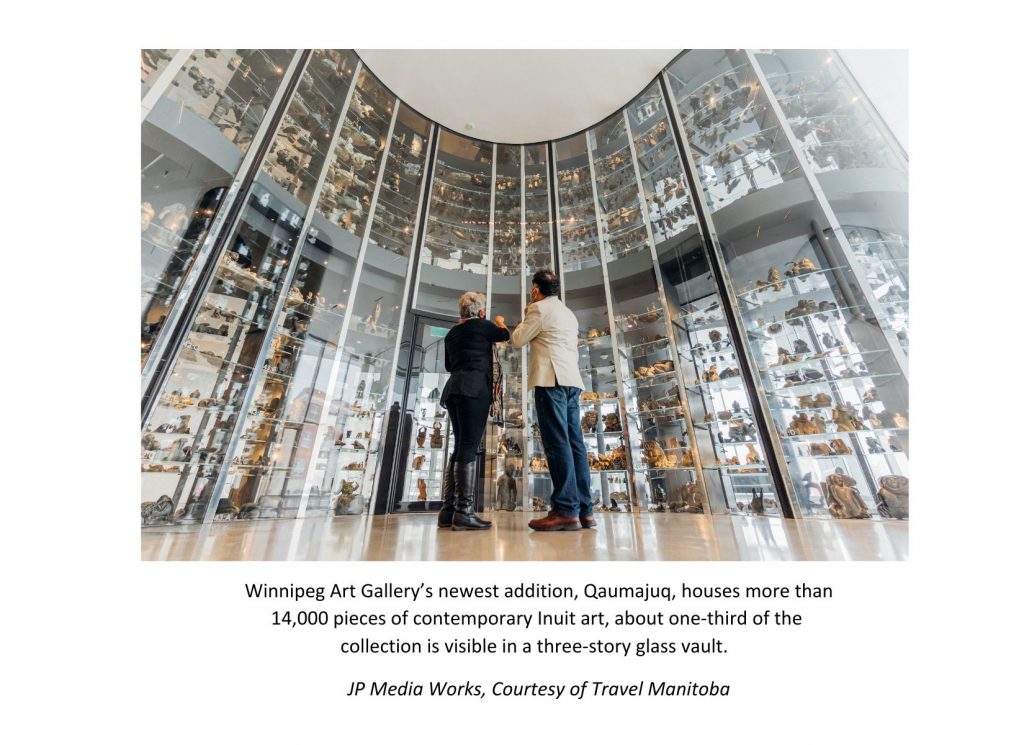 3. View thousands of pieces of Inuit art in one place
Qaumajuq is a stunning addition to the Winnipeg Art Gallery in the city's downtown area. Its architecture was inspired by Canada's northern landscape; its unmistakable white stone façade echoes the vastness of this land of snow and ice. Inside, a three-storey glass vault filled with thousands of Inuit carvings greets visitors. Qaumajuq houses the world's largest public collection of contemporary Inuit art at over 14,000 pieces, each piece representing the story of Canada's North.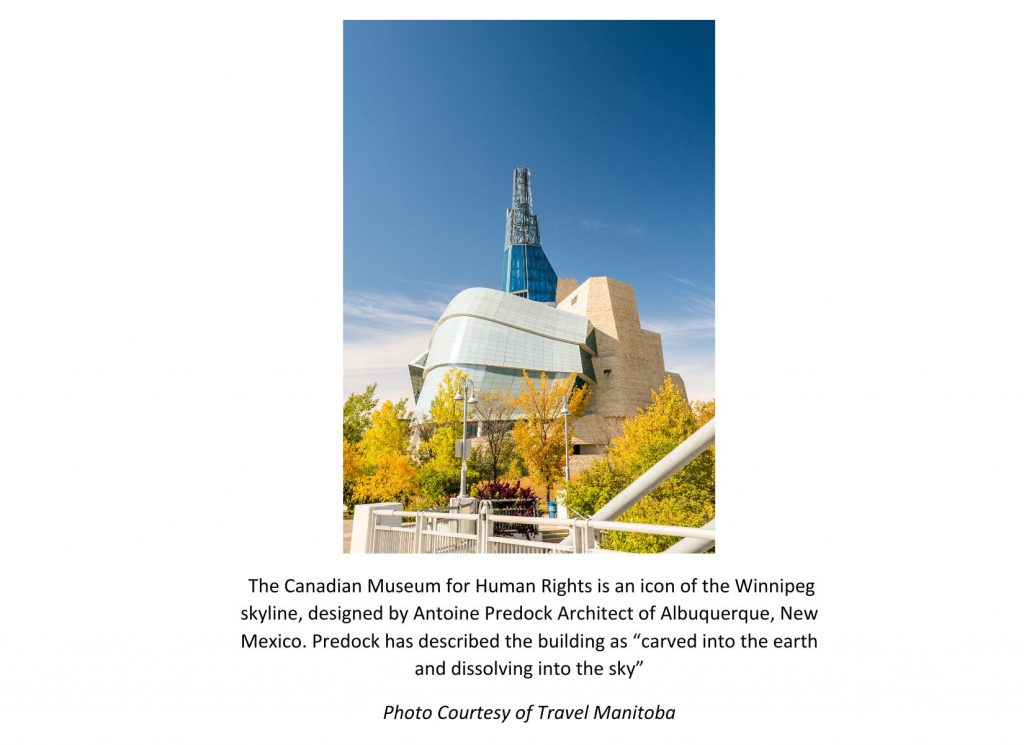 4. Learn about Indigenous rights at the world's only museum for human rights
The Canadian Museum for Human Rights is impressive not only for its innovative architecture it's also the world's only museum dedicated to the topic of global human rights issues. The Indigenous Perspectives Gallery at the Canadian Museum for Human Rights is a dramatic space that tells the story of First Peoples. The dedicated gallery is complex, sometimes uncomfortable and also beautiful, but it's not the only place where Indigenous stories are told. Throughout the museum, the history of colonial violations collides with stunning artworks and thought-provoking images to offer a modern and ever-evolving perspective of human rights.
5. Visit the National Indigenous Residential School Museum
For more than 60 years, the three-story brick building near Portage la Prairie was home to one of Canada's enduring shames—the residential school system. Now the Rufus Prince Building, named for a survivor of Portage la Prairie Indian Residential School who served in the Second World War and became chief of Long Plain First Nation, has been transformed from a place of hurt to a place of healing. Inside the National Indigenous Residential School Museum, artifacts and documents create a memorial to those who attended the schools and help survivors along on their healing journeys.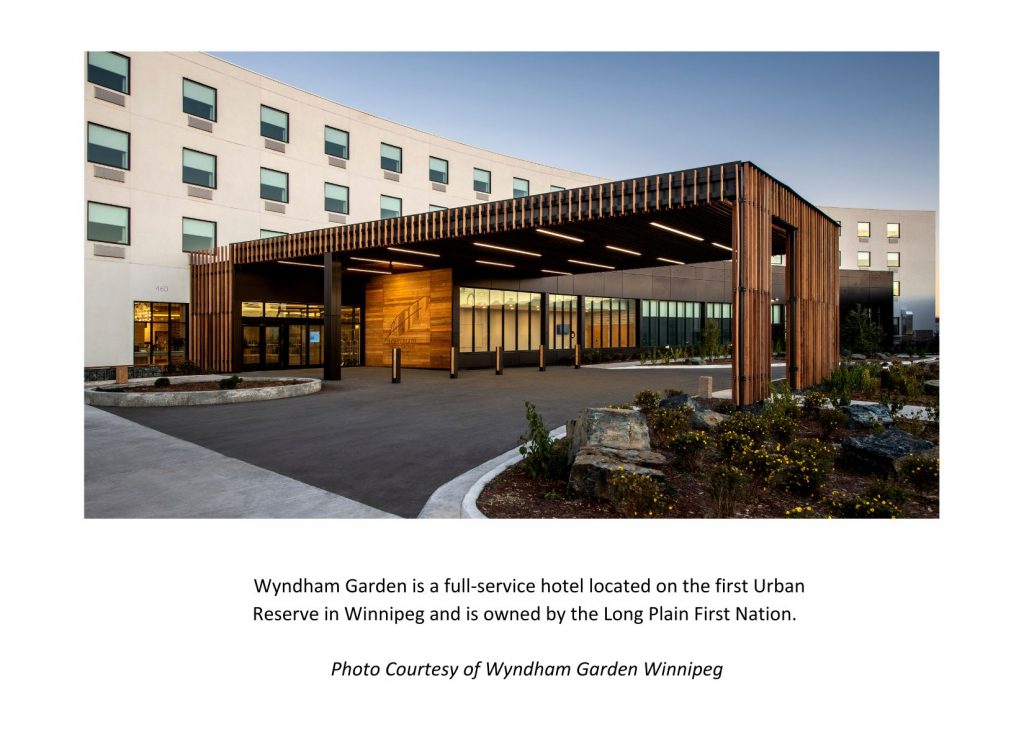 6. Stay at the Wyndham Garden Ode Akiing Hotel
Winnipeg's newest hotel is located on the first urban reserve in the city – the Long Plain Madison Reserve. Wyndham Garden Ode Akiing is a full-service hotel located on Treaty 1 Territory only a short drive from the airport and nearby attractions such as Winnipeg's CF Polo Park Shopping Centre and Assiniboine Park.
7. Celebrate Manito Ahbee Festival
Add a powwow to your summer plans this year. The annual Manito Ahbee Festival in mid-May in Winnipeg celebrates art, music, culture, dance, filmmaking and food, and kicks off the powwow season across Turtle Island. The Grand Entry is not-to-be-missed as dancers and elders formally open the event, followed by workshops hosted by knowledge keepers to learn cultural customs and the basics of language.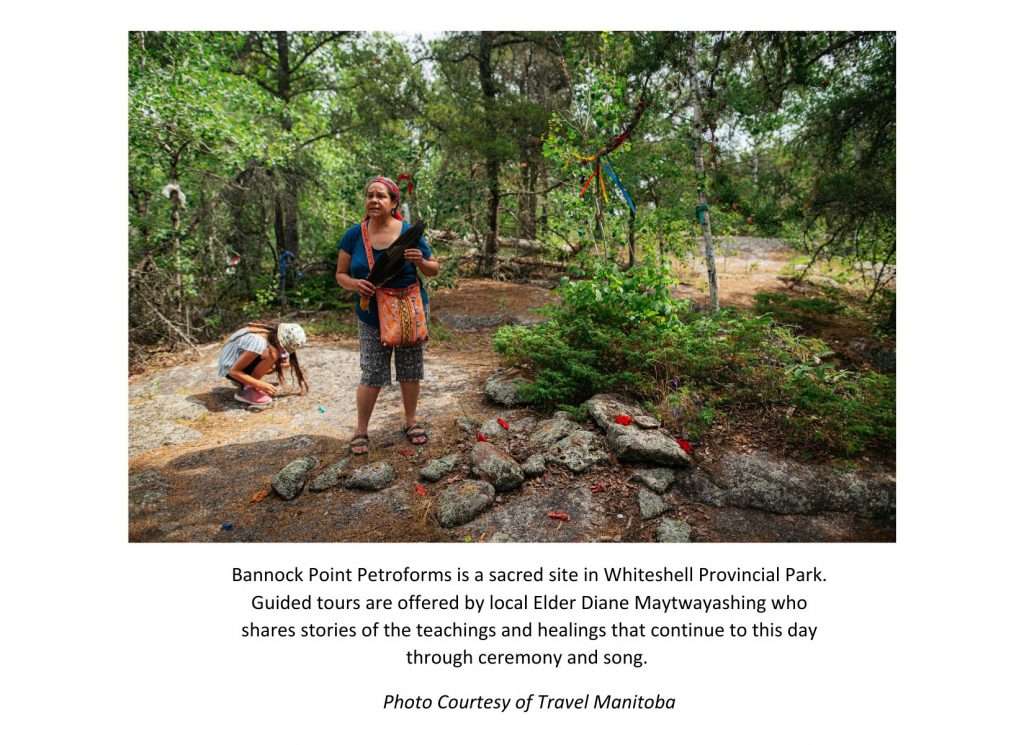 7. Walk where the spirit sits
Bannock Point Petroforms echo the shapes of humans and snakes, birds and turtles, all carefully arranged in moss-covered rocks on Canada's Precambrian shield. Diane Maytwayashing, an Anishinaabe knowledge keeper, takes visitors on guided walks of the sacred site, sharing stories of the teachings and healings that continue to this day through ceremony and song. Visitors learn about the original name of the site—Manidoo-Abi—that loosely translates into 'where the spirit sits.'
Find your dream vacation to Canada with a USTOA tour operator here https://ustoa.travelstride.com/trip-list/canada
About Travel Manitoba
In Manitoba, we know the longing for travel is felt in the heart. Whether your heart needs quiet, or it needs to race, sing or reflect, Canada's Heart is Calling. Travel Manitoba is a source of trip inspiration for bucket-list adventurers, outdoors enthusiasts and arts and culture explorers. Manitoba is located in the middle of Canada and is home to a thriving urban hub in capital city Winnipeg, wide-open landscapes and pristine wilderness throughout the province.
About the Author: Melanie Swenarchuk is Senior Market Development Manager and an expert on all things Manitoba. See https://travelmanitoba.com/travel-trade for more information.