by Kelley Ferro
"Okay, now make a wish," said Deniza, a Bahian beauty and a press officer from Embratur (Brazilian Tourism Institute), as she tied one of three knots of a Bahia wish bracelet around my wrist. I had been familiar with a colorful Brazilian tradition of the "Lembrança do Senhor do Bonfim da Bahia" bracelets on my first visit to Rio de Janeiro, but it wasn't till I was standing back in Brazil that I realized that these wishes do come true.
Brazil is one of those special places that after you go once; you'll want to go back again and again.  My wishes were granted sooner than I expected when USTOA said they were sending me back to shoot our Live Like a Local series this past August. Back in 2013, I had spent a one week vacation fully immersing myself into the lifestyle of Rio de Janeiro. My days consisted of late breakfasts, runs along Ipanema Beach, boutique shopping in Leblon, slurping cool Acai in the afternoons and admiring the talented Brazilians play soccer during my tanning sessions on the beach. In my mind, Rio was as close to paradise as I could imagine.
With the help of USTOA, Embratur, Adventure.com and our talented guides and ambassadors, my return trip to Brazil was equally as magical, and way more jam-packed with adventure. In just six days, we covered three cities, met a slew of locals and filmed our way through some of the country's most epic sites.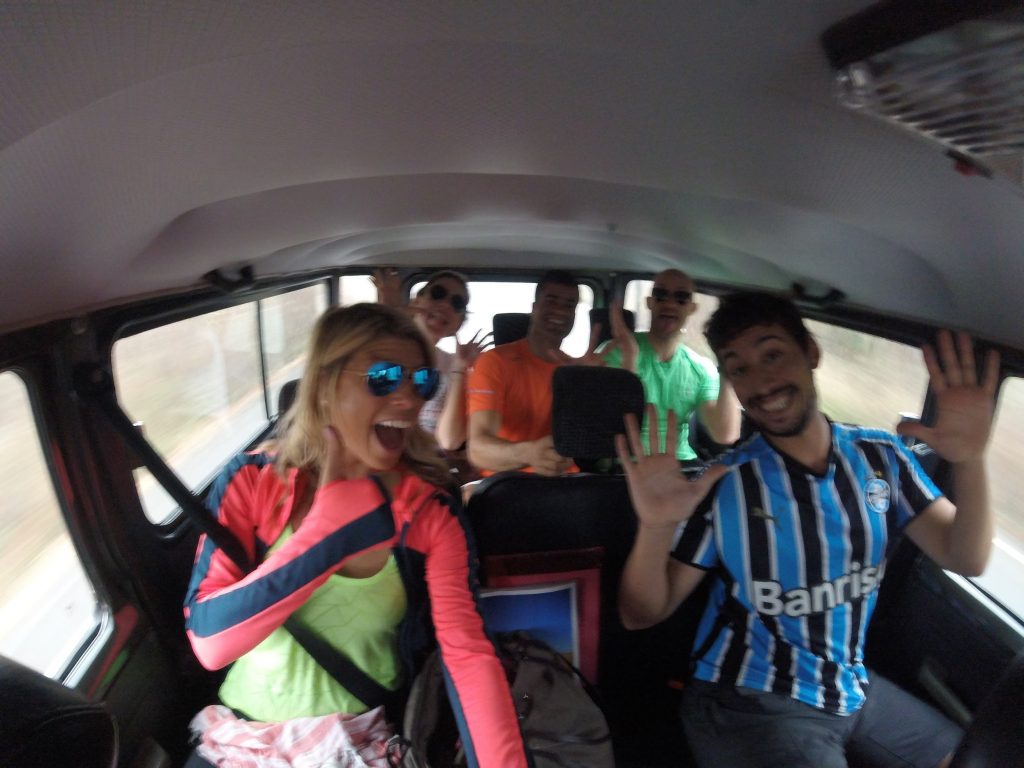 We started out in Bahia, a Brazilian state in the Northeast which has a distinct Caribbean flavor. Historically, the capital city of Salvador was the epicenter of the slave trade and it was the first stop on our itinerary. Approximately two million slaves helped grow Bahia's booming sugar industry at that time. Thankfully, slavery was abolished there in the late 1800s, but the African influence still remains infused in the region's personality. I saw it in the capoeira lesson that I took, a Brazilian martial art that was created and secretly practiced by the slaves of that time. I saw it in the food, like Brazil's national dish feijoada which developed when slaves added leftover scraps of meat to their usual meal of rice and beans. I even saw it in the art such as paintings of the Afro-Brazilian religious deities that are as prominent as their Catholic counterparts.
We continued our Bahia exploration with a stay in Lençóis, the jumping off point for a slew of natural wonders and outdoor adventures. This sleepy backpacker village was our laidback home, perfect for relaxing evenings. And we needed them, after spending our days spelunking, ziplining, grotto swimming, cave snorkeling, mountain hiking and photographing waterfalls.
To conclude our Brazil adventure, we spent our last day in Rio. Arriving late in the evening and with an impending flight out at 5:00am the following day, my Rio de Janeiro repeat trip was condensed into 24 hours. And I made sure to make the most of each hour.
Up well before dawn, I prepped for our last and only day in one of my favorite cities.  Hair done and good walking shoes on, it was "go time" at 6:00am and off we went to beat the crowds at the top of Corcovado. If I can give one tip to any first time visitors, go to see Christ the Redeemer AS SOON AS the doors open (8:00am) Besides a few other valiant travelers, we were the only people at the top of this world famous site.  I felt like I spent a lot of time with Jesucristo, dividing my gaze between the majestic statue and the equally majestic view of this coastal city.
But time was ticking and down we went to check out the Santa Teresa neighborhood, and area springing up with new cafes, art galleries and outdoor bars along the cobbled streets. Our local guide told us the backstory of this previously Portuguese aristocrat area as we poked our head in the shops.  A quick pick me up of Brazil's signature caffeinated beverage, and we were off to see the Selaron Steps, an explosion of colorful tiles from hundreds of cities and countries around the world.
Rio's enviable sunshine decided to take a pausa, so we did too for a refueling session at a Brazilian buffet while the rain cooled down the city. Lucky for me, the restaurant was next to a Havaianas store and Deniza, press officer from Embratur (Brazilian Tourism Institute) and local Bahian beauty, gave me a rundown of the best flip flop styles that weren't found in the USA. I now have enough flip flops for the rest of my life.
Without skipping a beat, it was time to explore a favela, something I hadn't done in the past. Our local guide brought us to the Santa Marta favela, a relatively small hilltop "slum" that has had one of the biggest positive transformations. We met Veronika, a local resident who guides visitors through her home community. Through a translator was needed, Veronika and I chatted about life here, her kids, Michael Jackson and about her thoughts for the future of her community. I could have spent all day here but it was on to the next part of the day, Rio's famous beaches.
The rain had passed but the clouds continued to hang out over Rio. Either way, Copacabana Beach still looked lovely and there we filmed some of the city's favorite drinks, coconuts and caipirinhas. After my first bite of a dulce de leche churro (WOW!), we transferred to the city center by subway. Traffic is brutal so the surprisingly clean and efficient underground metro was the fastest route. We arrived at an outdoor square where Monday night samba dancing takes place, to the tune of a live band. We weren't the only ones camping out for this free show. However, the band canceled and so the dancing was postponed.
Undeterred, we headed to Lapa to tour some of the bars of this neighborhood popular for nightlife. Rodrigo, our Brazilian guide, introduced us to a special aged cachaça and after a few rounds and many "saúdes" later, we were starving. Where to eat in Rio when you only have one night? A churrascaria of course. This carnivorous restaurant was jam-packed even at 10:00pm. The churrascaria tradition is like a meat buffet that comes to you. Since I'm not a big meat eater, I enjoyed their insanely huge salad bar as our group tucked into to almost every type of meat that came out.
As our manic day came to end right before my 2:00am transfer to the airport, I felt like we had really sucked the juice out of Rio. This city is non-stop and we did our best to keep up, from dawn… till dawn again.
This trip was entirely different than my first leisurely week in Brazil. However, my love for the country has only grown. We did more in one day in Rio than many people do in a week, and I can say the same is true for each day on the rest of the trip. My knowledge of Brazil's culture, hotspots and people has improved dramatically and from that, I only have a longer list of where I want to go when I return again.
On that first wish bracelet back in 2013, I had wished to return to Brazil. Now, as I write this I am wearing my latest bracelet, given to me from Deniza. It's my daily reminder that wishes come true and that I'll be going back to Brazil on another adventure before long.
To see a video behind the scenes of my wild 24 hours in Rio, click this link→ Rio in 24 hours
Kelley Ferro is a travel expert & video journalist living in NYC. She films her show, Get Lost, around the world–hopping on a plane at least twice a month She is also the executive producer for Tripfilms.com. For more on her travels, follow Kelley's Facebook page.