How to Get More Out of Seeing the Cliffs of Moher
By Roman Godzich, Director of Content at Sceptre Vacations
The spectacular Cliffs of Moher are one of the most popular bucket list destinations.  To make your visit the absolute best it can be, check out these tips before you hit the cliffs.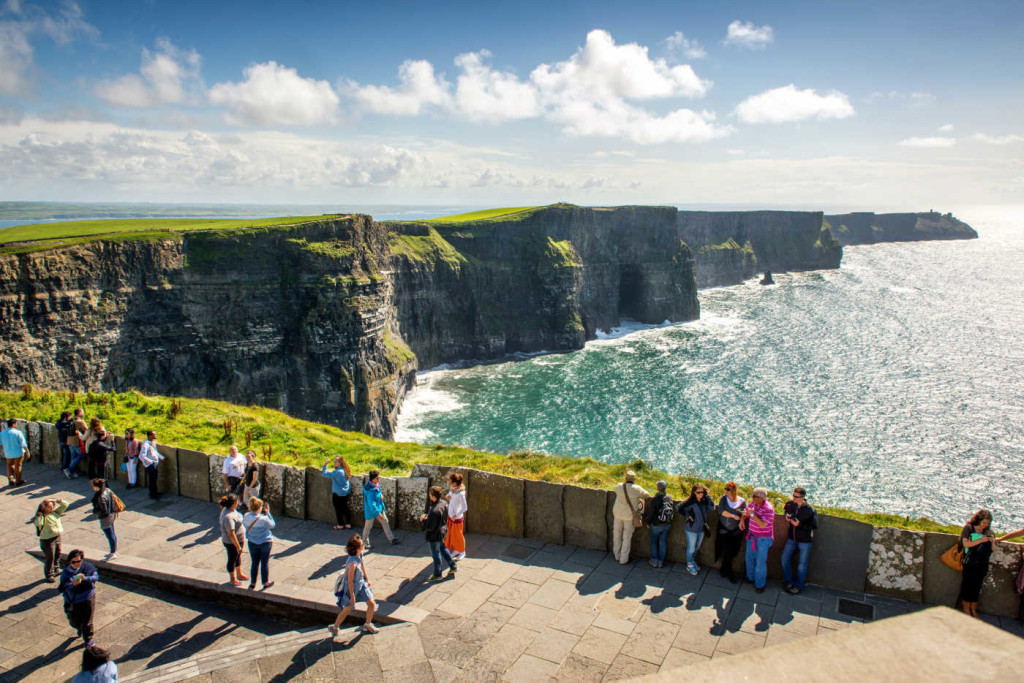 Time your visit
Keep in mind that the Cliffs are most crowded between 11 am and 4 pm. Because this is right after all the tourists wake up, eat their Irish breakfasts, and venture off for the day. It's also the time when many bus tours show up and when you'll most likely be surrounded by large groups.  Take the time to explore beyond the visitor's center, you'll find room to breathe and roam around. There is so much beauty to see, why stay in one spot?
Check the weather
The weather in Ireland is often unpredictable. But there's a huge difference between a forecast that claims all sun, and one that claims all rain. If possible, choose a sunny day to visit the Cliffs of Moher. It can be still spectacular in stormy weather, but fog may impede the brightest photos.
Pack warm clothing and a rain jacket
Be prepared for a variety of weather experiences. One minute might be rainy, and the next one might be sunny. Even if you check the forecast for a general idea of the day, the weather around the Cliffs may be different. The best thing you can do is be prepared. Pack a scarf, a rain jacket, and waterproof shoes. We hope it stays sunny for you, but if it doesn't, you don't want your feet to be cold and soggy as you explore.
Find the parking lot
Although it's pointed out by signs, many people miss the parking lot. That might be because it's across the road from the Cliffs entrance. Every day, tons of tourists turn into the main entrance, only to turn around and go back to the parking lot. Be smarter by turning into the lot ahead of the entrance.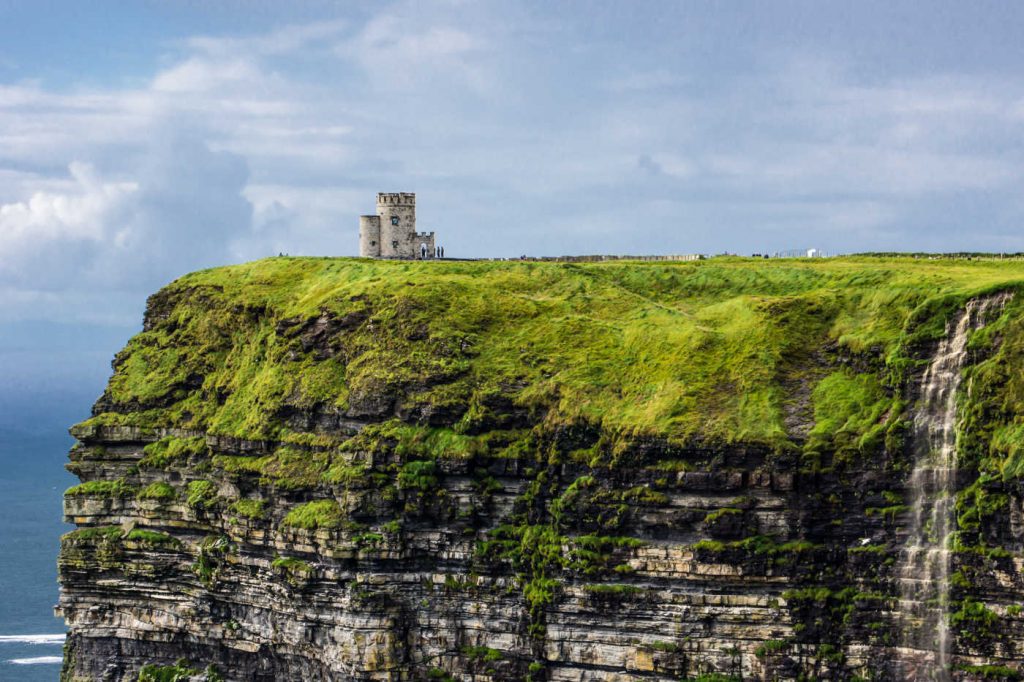 Climb O'Brien's Tower
Sitting at the highest point of the Cliffs of Moher, O'Brien's Tower is an outstanding historical landmark. Offering incredible architecture and breathtaking views, the structure dates back 2,000 years. The spiral staircase is a narrow and daunting climb, but the view is worth it.
The visitor's center is hidden
Upon arrival, you might think, "Visitor center? Where?" Many people ask the same question until they look a little bit more carefully. The eco-friendly visitor center is actually nestled into the hillside. It is built that way to minimize visual impact on such a scenic location. This fabulous center boasts a gift shop, exhibition, and café.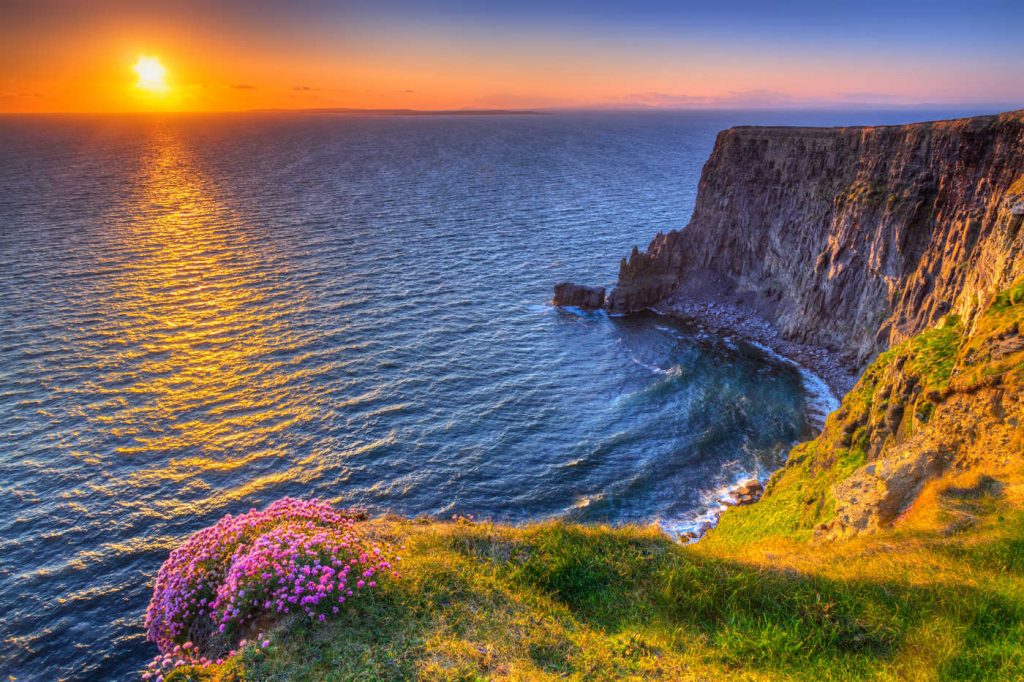 Afternoon is best for photos
The Cliffs of Moher face west.  This means that your best bet at postcard-worthy pictures is in the later afternoon. We recommend arriving towards the end of the afternoon for some great shots. Another idea? Visit the Cliffs in the morning, then come back just before dusk for a breathtaking sunset! If you're there in the summer months, you're in luck. The sun sets much later in June and July, offering more afternoon to work with.
Watch the wind
It doesn't just get windy, it gets windy. Like, really windy. Be prepared! The cliffs are jaw-droppingly high and set against the ocean, which creates quite a strong gale force. Keep your belongings secure, and don't walk too close to the edge!
Yes, there's WiFi.
Free customer WiFi is provided throughout the visitor center and some outdoor areas such as O'Brien's Tower. Feel free to post photos, use your map app, or even Facetime a friend who couldn't come along on your trip. But please don't be one of those people who stare at their phones the whole time. You're at one of the most beautiful, sought-after sites in Europe.
Roman is an internet industry veteran. He began designing ecommerce solutions on the French Minitel system. He has designed search engines, booking processes, affiliate programs and ad networks. Through his career, he has been responsible for over $1billion in online sales. Currently, his responsibilities at DH include content creation, management and optimization. In his spare time he writes fiction and catches fish. He is a 5 time Nanowrimo winner and author of the novel "No Higher Ground".
Sceptre Vacations has been empowering travel agent success since 1981, specializes in FIT and group bookings to Europe, but also sells 500+ prebuilt packages to over 70 countries worldwide.
With prebuilt packages, sharable content and an industry-leading dynamic packaging engine (PerfectFIT), Sceptre provides travel advisors with custom online articles and digital brochures that can be branded for each agency.
Visit http://www.sceptrevacations.com and see why we say that "Sceptre is the Perfect fit for the smarter agent."