By Ann Shields, AFAR Ambassador
Every guidebook description of Skagway, Alaska—no matter how brief—mentions its Fourth of July celebration. Every single one. How can one day be that print-worthy? Well, I'm here to count the ways:
Skagway's Fourth of July celebration starts on the Third of July. It's that good. The campgrounds and RV parks are filling up with attendees and parade participants have arrived and are milling around town, looking for action. A bagpipe band (Ensemble? Corps?) holds a practice session at the intersection of Broadway and 2nd Street. They're casual, wearing sweatshirts and jeans, but the pipes sound strong and echo off the mountains that hug the town. Dogs and toddlers run around, confused and excited by the noise and people.
Because of the long hours of summer sunlight up here, the fireworks don't start up until almost midnight. Shot off from a boat, they scream into the sky between the walls of the fjord, spectacular, reflected in the water. Again, the booming bounces between the rock faces of this box canyon, making it echo as long as the colored light falls from the sky. It goes on for a ridiculously long half-hour, relentless, no Grucci Brothers orchestration of highs and lows, just fun, over-the-top, pretty explosions. Afterwards, everyone wanders back into town from the water's edge, pulling sleepy kids in wagons.
When morning comes, the bagpipes have begun warming up and people drift outside. The cross streets are blocked off. Three cruise ships arrived early and the brilliant white

Holland America Line

ship seem to be watching over the proceedings from its dock at the end of Broadway, massive and jarringly modern in this townscape of historic buildings.
The parade starts with floats from local businesses—decorated work trucks and tractors piled with employees and their families throwing candy to the spectators. Sled dogs, harnessed to a crepe-paper-festooned ATV, yap and strain and pull it up the street, clearly bummed out when they have to slow down for the stupid slow float ahead of them. A couple, dressed in vintage wedding finery, ride a three-wheeled bike back and forth along the street with a Just Married sign on the back.
A regiment of Mounties, in full Dudley Do-Right red woolen jackets and black jodhpurs, have come across the pass from Canada to march on our holiday, our smiling neighbors.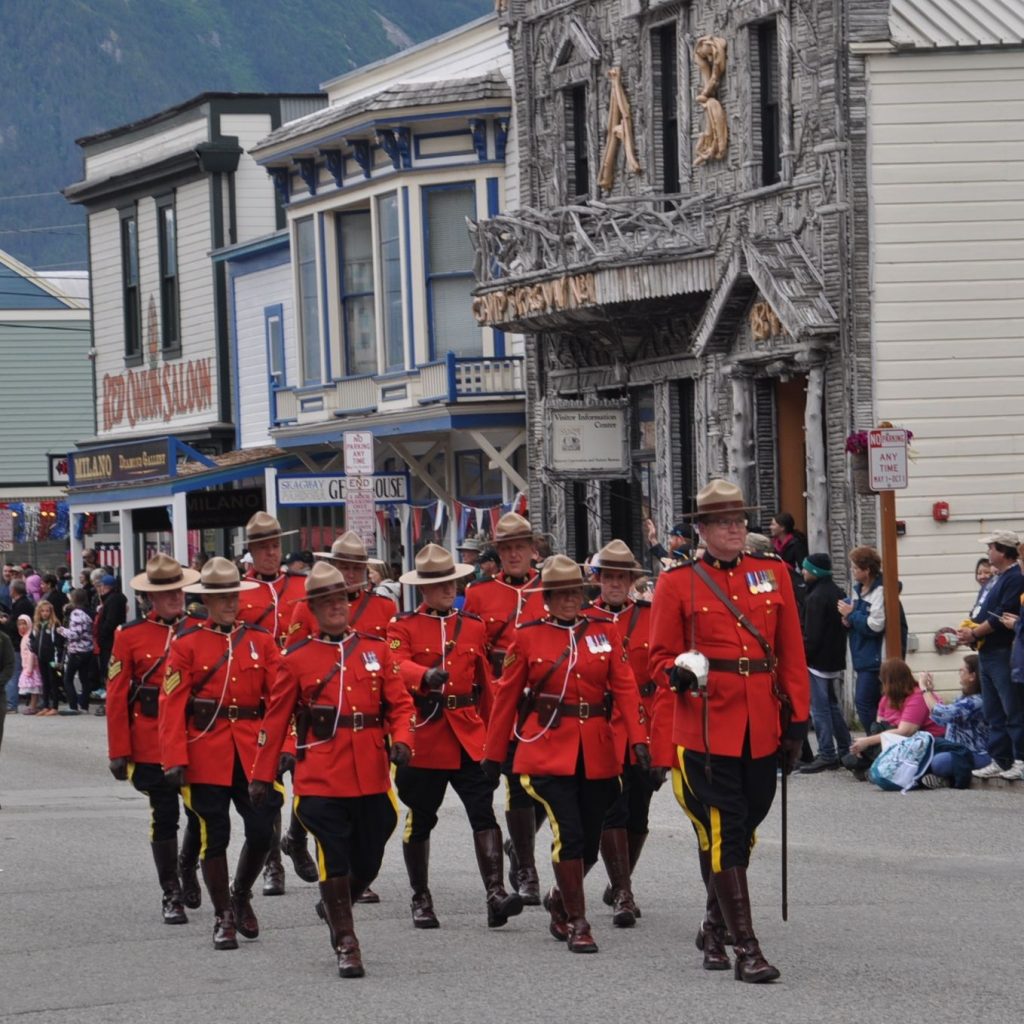 A huge papier-mâché head of Teddy Roosevelt looms down the street, leading several National Parks Service floats, homemade extravaganzas honoring the 100th anniversary of the national parks. Behind Teddy, female park rangers, each costumed and wearing beauty-pageant sashes bearing the names of national park, laugh and throw candy and wave. Ms. Statue of Liberty tries to read aloud the act of Congress that created the parks but she can't stop laughing.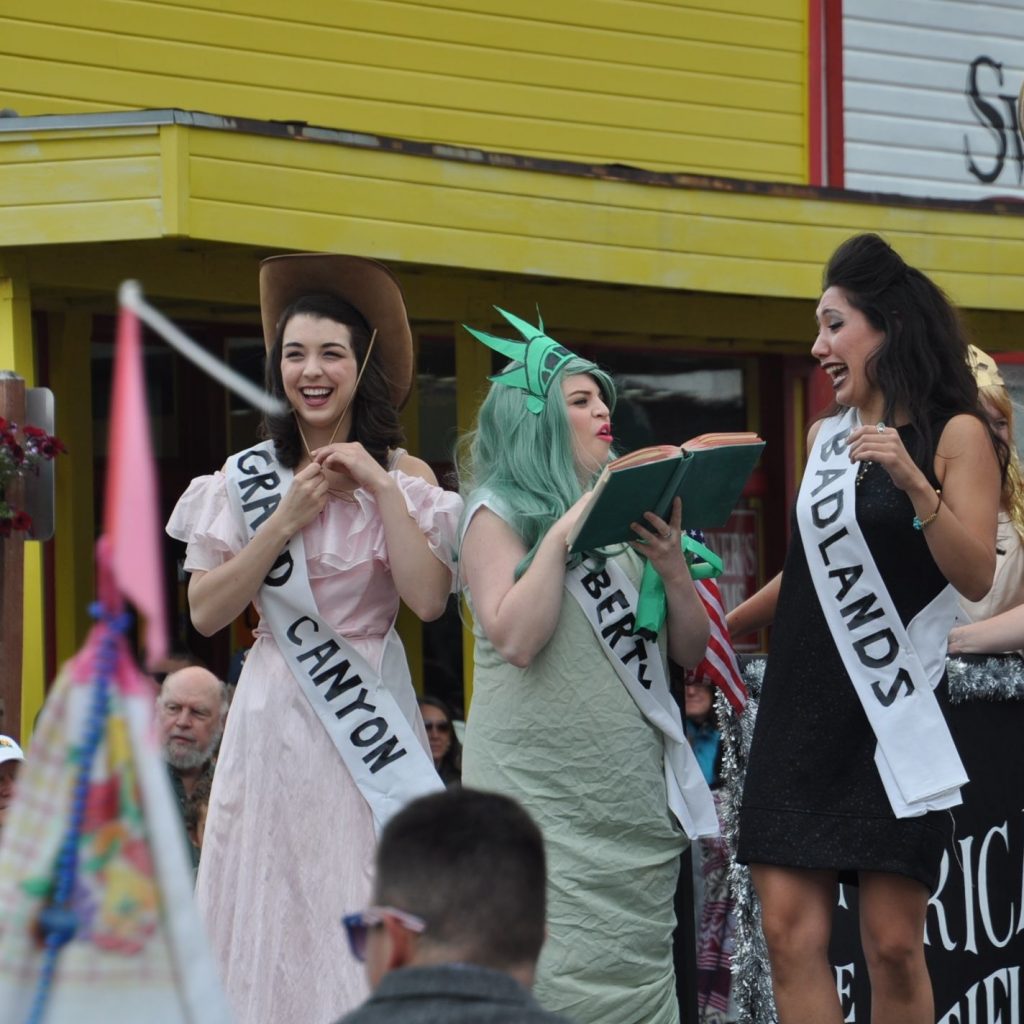 The parade goes around twice.
A post-parade schedule is circulated. It includes band performances, foot races, tug-of-wars (tugs of war?), arm-wrestling, eating contests, more. A basketball hoop is set up on Broadway and one-on-one contests and free throw competitions go on the rest of the day.
An epic egg toss begins: Close to a hundred participants line up across Broadway from their partners, the parallel lines of players extend seven blocks. The eggs are lobbed across the street and caught, or not. The losers step back, some with actual egg on their face; more and more missiles are thrown and the winners continue to close up positions until their ranks only span one block. The crowd is noisy, taunting, cheering, laughing. The length of Broadway is splattered with broken eggs. Finally a young couple, with impressive lobs and heroic lunging catches, win.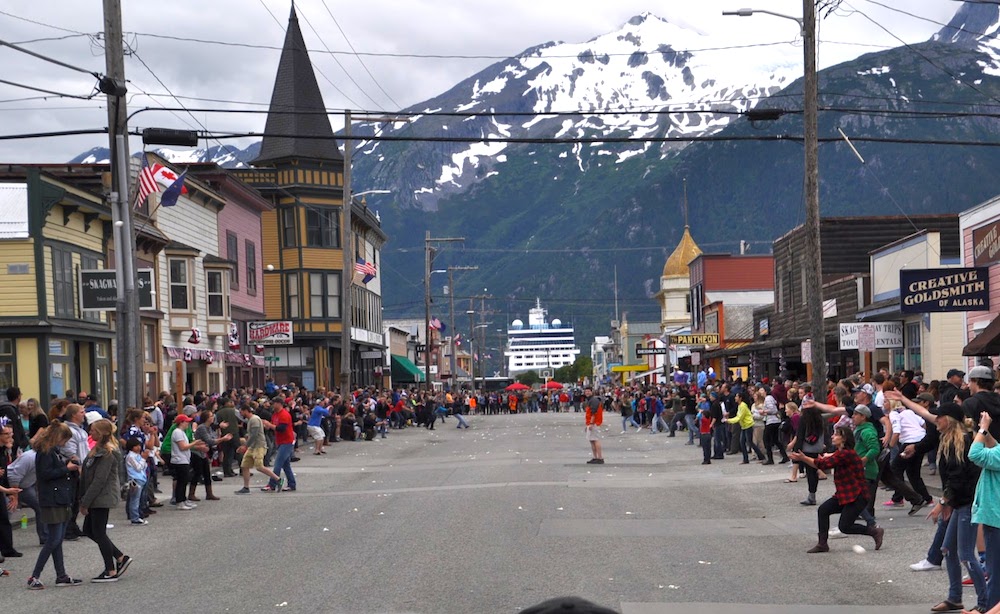 Up on the commentator's platform, arm-wrestling begins. The kids' divisions go first with contestants standing on folding chairs to reach the high table. The two final young competitors in the Girls Under-12 division are so well matched that their grimaces and moans continue for long minutes, a standoff.  The commentator laughs, then cheers, then is at a loss for words. The girls strain on. No one in the rapt crowd is thinking about the strong men who'll compete next because these two girls are determined and impressive superheroes.
In the foot races, the boys and girls run with a grace and lightness, even when they're trying their hardest, that makes even the fastest adult look thick and plodding.  Poor adults.
Cheating is apparently condoned in Skagway tug-of-war. Grown-ups and teenagers regularly step in to pull and even up the teams during the little kids' contests.  It is noisy and fun and good-natured and inclusive.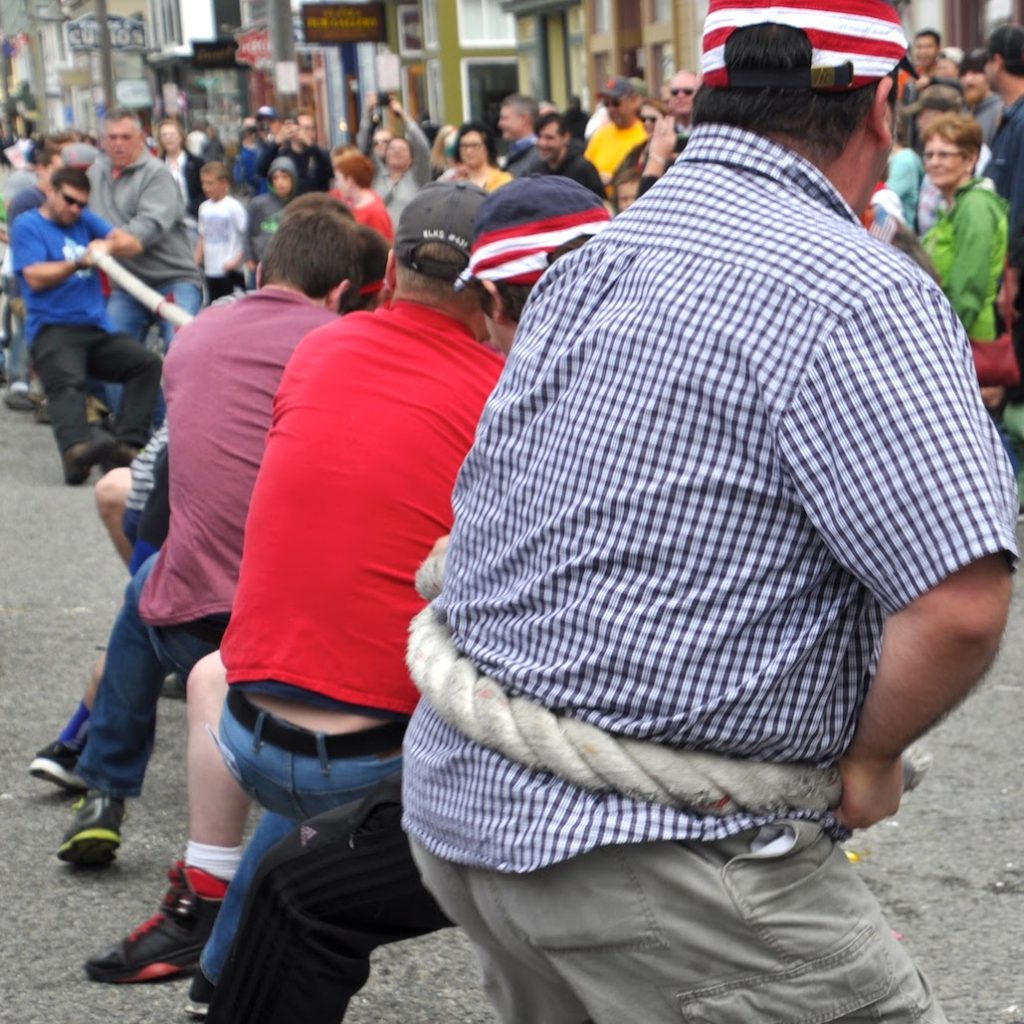 In addition to organized events, there are:
Dogs in tiny red, white and blue top hats.
Toddlers twirling and dancing to the drums and bagpipes.
Old people who set up their own chairs along the parade route holding court for the rest of the day.
The Royal Canadian Mounted Police, still in their magnificent uniforms, holding hands with their own kids and laughing.
Off-duty pipers in kilts, drinking beer at the bar of the Red Onion Saloon.
Broadway is crowded well into the evening, when the cruise passengers wander back to their ships, sidestepping broken eggshells. Everyone, townspeople and visitors, seems tired and really, really happy.
In summary, the guidebooks are right. If you can make it up to this tiny port town at the top of Alaska's Inside Passage for the Fourth of July, you should definitely come to Skagway. I kind of cheated: My trip was part of a sponsored exploration of the Yukon-Alaska land programs offered by the Holland America Line, but I'd do it again on my own dime.  This day is the feel-good stuff of small-town mythology.
Interested in learning more about Ann's journey with Holland America Line? Visit http://www.afar.com/travelers/ann-shields/wanderlists/alaska-and-yukon-territory-highlights.
In these quiet days leading up to her Powerball win, Ann Shields works as a freelance travel editor and writer. A fan of literature, museums, history, high-minded cinema, and bad television, Ann lives in New York with her husband and two teenaged children. She likes road trips, local bars, getting lost, and laughing, so Ireland ranks high on her list of favorite places.